The deployment of 5G technology is a key enabler for operators to upgrade their mobile broadband networks and implement at least three major functionalities: ultra-high-speed mobile broadband, low-latency communications, and machine-to-machine (M2M) mass communications. These functionalities will enable new use cases such as virtual reality, gaming, connected cars, drones, smart cities and smart factories, among many others. The result will be a strong boost to the digitalisation of society and a potential reduction in global CO2 emissions of up to 15% by 2030.
However, operators also have the opportunity to deploy their own 5G networks in an environmentally sustainable way: more efficient and low-carbon networks.
Energy Efficiency
Each new generation of mobile networks has brought an improvement in energy efficiency and, with 5G, it will grow significantly due to their high spectrum efficiency. In 2020, Telefónica carried out an actual measurement study of energy consumption at its 5G sites deployed in Germany, Brazil and Spain, and showed that this technology is up to 90% more efficient than 4G in terms of energy consumption per unit of traffic (W/Mbps).
Thanks to the implementation of more than 1,250 energy efficiency projects, Telefónica's energy consumption has remained stable since 2015 despite a five-fold increase in data traffic over the years. However, due to the increased use of technology during the pandemic, we anticipate that traffic will continue to grow exponentially and the use of more efficient technology such as 5G is key for us to maintain this energy consumption trend. 
Ultimately, 5G must become the cleanest network in terms of carbon. At Telefónica, we use 100% electricity from renewable sources in the UK, Germany, Spain, Brazil, and Peru (87.5% across all our operations).
5G must become the cleanest network in terms of carbon and help us to have zero net emissions by 2025 in our major markets
Artificial Intelligence
Today, energy optimisation software functionalities, also called Power Savings Features (PSF), are already available for legacy networks. They allow significant energy savings during low traffic hours, when we can put the equipment into sleep mode or reduce the transmitting power. Instead, there is always a thorough pre-implementation testing process to ensure that the user experience does not suffer.
The new functionalities developed by the radio equipment vendors allow for faster implementation, as they feature more accurate algorithms and the use of machine learning and artificial intelligence (AI) tools. In Telefónica, the activation of the energy saving features for 5G has demonstrated potential savings of between 20% and 30% in consumption during low traffic hours.
In addition, new artificial intelligence tools such as RIC (RAN Intelligent Controller) will create use cases for automatic adjustment of 5G network configuration parameters that contribute to quality of service, network management, and also optimisation of energy consumption.
New ways of deployment
The life cycle of a mobile network site is divided into the processes of design, deployment, operation, maintenance, and dismantling.
On that note, Telefónica defined the design of a 5G network, including energy efficiency criteria from the outset, called Smart Site.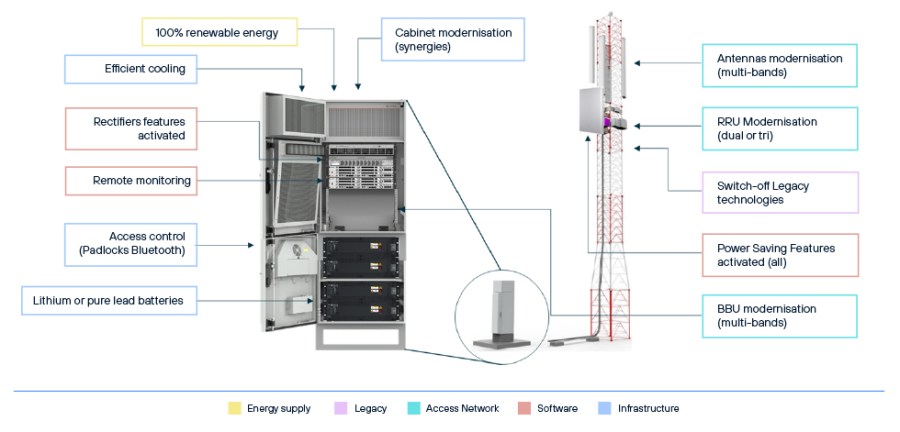 The first step in the design phase is a thorough review of the current site situation to identify the available infrastructure and the equipment that needs to be upgraded to a new, more efficient one. Everything is based on a long-term vision of the project and its entire life cycle, with the aim to reduce operational costs, such as rent, maintenance or energy, and to prepare the site for future expansions.
To optimise the movements of maintenance technicians, the Smart Site is designed for complete monitoring of its equipment. From a Network Operation Centre (NOC), it is possible to have a complete diagnosis of the site, act remotely, and send a technician with the appropriate profile for maintenance during a breakdown.
Moreover, the new deployments will take place in tandem with a gradual shutdown of the legacy 2G and 3G networks. In this way, Germany will switch off 100% of the 3G network by the end of 2021 and Spain plans to do so by 2025.
Lastly, and in order to manage the equipment that is withdrawn from use, the circular economy criteria of reusing and recycling as many materials as possible are also applied. At Telefónica, 98% of the waste generated in 2020 was recycled.