What do consumers expect from our companies? Do we know how to connect to them? Have their expectations changed with the pandemic? Understanding them is fundamental to attracting them as customers. There are some elements that can help us:
More trust; more responsibility
The business sector (61%) has emerged as the most trusted institution, followed by NGOs (57%), governments (53%) and the media (51%). Moreover, the business sector is the only to be considered ethical and competent, according to the Edelman 2021 Trust Barometer.
The report shows that the events of this past year have reinforced the idea of companies' capacity and responsibility to take the lead on social issues, such as worker empowerment and racial justice. This has also instilled new expectations in them, as they are expected to broaden their scope of action to include aspects such as vouching for quality information, promoting sustainable practices, providing a safe, health-based response to the COVID-19 crisis, fostering inclusive growth and generating long-term value, as opposed to the short-term gains.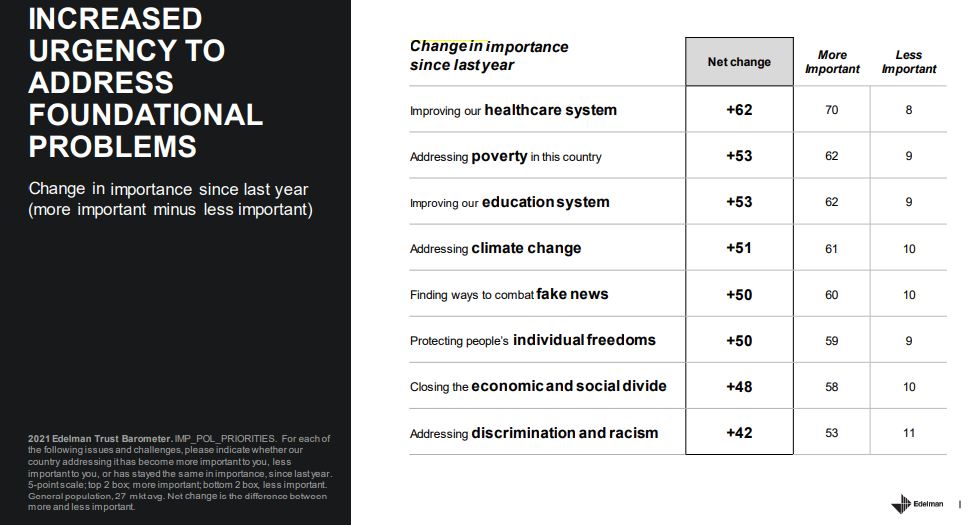 More challenges; more CEO "activists"
Given the new expectations placed upon the business community, new demands are also made of CEOs: 8 out of 10 respondents to the Edelman survey demand these executives speak out on social issues such as the impact of the pandemic, the automation of the workplace, and major global challenges such as healthcare systems, poverty, access to education, climate change, or the spread of fake news, among others.
More digital, more global, but also more local
The coronavirus has caused our lives to be ultra-connected: leisure, work, sport, shopping… we do everything through our screen, with all that entails for companies. At the same time, we need to disconnect and after spending so much time cooped up inside; we feel the strong call of nature and those villages where we can now work remotely from and get away from the city; we crave to be close to our, perhaps, vulnerable loved ones, or even wish to stay there forever.
More emotions; more empathy
The pandemic has left us with a more emotional consumer, one who has reconnected with what is essential, who more than ever pursues the perception of a safe, healthy home, where mental health is no longer a taboo. Having empathy will almost be a must for brands in order to understand them, says LLYC in the Consumer Trends 2021 report, which also stresses the importance of product affordability and simplicity.
Let's take the time needed to build customer expectations into our strategies and do so with the idea that it is not about consuming more, but consuming better, because there is only one planet, and perhaps "the slow movement" is here to stay.