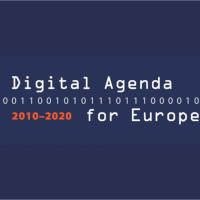 After having launched almost a year ago the Digital Agenda for Europe , one of the seven flagship initiatives of the Europe 2020 Strategy and a roadmap for the increased usage of ICT services in Europe, the European Commission is organising the first Digital Agenda Assembly for the next 16-17 of June in Brussels.
The Digital Agenda sets out and proposes 100 actions for eight different pillars such as
With this week´s Digital Agenda Assembly, the EU wishes to analyse the progress made up to now, identify the next challenges for a full implementation of the Digital Agenda and also include the various stakeholders perspective (national governments, industry, organisations linked to ICT), which are necessary to implement the strategy designed.
Debates will also for sure be fuelled by the recent publication of the Digital Agenda Scoreboard. The main outcomes give some indications in which way the Digital Agenda has been implemented and where more efforts are needed.
So we are looking forward to two promising days of discussions and debates!
Telefónica will follow the debates and as one of the major communication nd broadband provider in Europe but also globally, this company supports the objectives set up in the Digital Agenda for Europe and is contributing to it through several actions and initiatives.
To give you an idea what that means, this and the following week, we will publish some posts linked to the EU Digital Agenda.
Meanwhile, you can access to the whole programme of the DAE Assembly here.
You can also follow and contribute to the event through Twitter, with the hastag: #daa11eu to be fully updated!