Jonny Shipp

Director of Public Affairs at Telefónica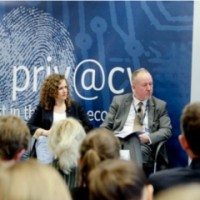 On 26th March the director of Telefónica's International Office, Carlos Lopez Blanco, spoke at an evening debate about data privacy.
In discussion with Viviane Reding, European commissioner for justice, fundamental rights and citizenship, Sophie in 't Veld, Dutch MEP vice-chairwoman of the European Parliament's civil liberties committee, Peter Hustinx, the EU's data protection supervisor and Monique Goyens, director-general of the European consumers' association BEUC, all were in favour of boosting consumer confidence in the internet. The challenge is to decide how best to achieve that.
Reding stressed the importance of trust, quoting an opinion poll which found that 80% of users thought their data were being misused. She said that if the trend continued users would not be prepared to share their data any more. She predicted that there would be "several scandals" involving data breaches, adding that there was "no time to lose" in agreeing new rules to improve trust.
Lopez Blanco highlighted that data protection rules are a "global issue, not just a European one". He urged the EU to discuss rules with its US partners so there would be a "global marketplace for data". Reding said that the proposals had been "positively received" by the US authorities. She noted that three weeks after she had announced them, the US authorities had published a position which reflected many of the same values.
Now the proposals are to be discussed in the European Parliament. As this happens we look forward to sharing our ideas about how we can build trust by offering customers more visibility and control over their data and by delivering new, data driven digital services.
Click below to watch the summary video of the debate:
[youtube]http://www.youtube.com/watch?v=mJ0qpW0w2DU&feature=youtu.be[/youtube]
Source: European Voice