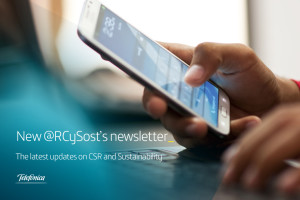 This week, we want to share with you our last post with a resume of the United Nations My World survey results. More than 7 million voices have already spoken! http://ow.ly/Gx3p3
In addition, our team takes this opportunity to wish you a happy new year!
NEW SUSTAINABILITY WEBSITE OF TELEFÓNICA
Sustainability of urban areas is a vital issue, given that by 2050, 70% of the world's population will live in them, and they currently emit 71% of greenhouse gases and account for between 60% and 80% of global energy consumption. ICT can provide solutions to make them more efficient through smart cities initiatives.
At Telefónica, we offer solutions to the challenges of these smart cities. What sets us apart is our cross-cutting, technological platform which is open to development and integration with other companies' applications.
Here you can find the commitments and positioning of Telefónica in this field: http://ow.ly/Gx3Ti
EVENTS
CES International 2015 – @intlces (6th -9th January, Las Vegas, NV) http://ow.ly/GgSLs
Sustainability week 2015 – @masdar (17th-24th of January, Abu Dhabi) http://ow.ly/GwZSF
The internet of things: policy and technology priorities (27th January, London) http://ow.ly/GgUGE
EmTech Singapore 2015 – @EmTechSingapore (27th-28th January, Singapore, China) http://ow.ly/Gx02w
Energy from Waste 2015 – @EFWLondon (25th-26th February, London) http://ow.ly/Gx0oi
ARTICLES
Childhood: keys for responsible use of social networks – @RcySost http://ow.ly/Gx3gn
10 data discovery & visualization predictions for 2015 – @cbronline http://ow.ly/Gx4GH
How to make your employees digital ambassadors – @ComprendCom http://ow.ly/GwZqq
If you want to succeed, here are 5 things you need to do differently – @entrepreneur http://ow.ly/Gx0hZ
E-government and cloud-services: a Win-Win combination – @DigitalAgendaEU & @evageliskos http://ow.ly/GxBL5
Driving forces for attracting talent – @ComprendCom http://ow.ly/GwZtw
From M2M to IoT: Old industries have to learn new tricks – @itworld http://ow.ly/Gx2K9
Could mobiles facilitate access to energy? – @RcySost http://ow.ly/Gx3ax
What really inspires millennials to live more sustainably? – @theguardian http://ow.ly/Gx4iC
REPORTS
The Future of Privacy – @pewresearch http://ow.ly/Gx2wx
The business case for reputation risk management – @ethical_corp http://ow.ly/G4qLT
Harnessing ICT for social action – a digital volunteering programme – @DigitalAgendaEU http://ow.ly/GxNot