The digitization of the value chain and the incorporation of new technologies have enabled the application of new models of organization, prevention and production in industrial ecosystems. These new dynamics make up what is known as Industry 4.0. or Smart Industry, where connectivity is key for the secure transmission of instant information and for the automation of processes.
5G has become a key factor in Smart and Connected Industry due to its low latency and higher bandwidth. This improves download speeds and increases the ability number of connected devices supported. 5G facilitates real-time communication between facility operators and interconnected smart objects. It also enables immediate data transmission for analysis and prediction of their activity. Overall, this leads to a more efficient management.
Benefits of high-capacity technology and connectivity for industry
The benefits of applying high-capacity technology and connectivity offer countless advantages to industries. Chief among them is greater control over the value chain thanks to the information obtained from the product lifecycle, from suppliers to customers. The capabilities of 5G can also be amplified thanks to technologies such as cloud, edge computing and the Internet of Things.
On the one hand, the high computational capacity of edge computing decreases delays and allows processing a large amount of data close to the "machines". Then, the Internet of Things, through sensors connected to the network, makes it possible to capture real-time data automatically.
Another key technology in the digitization of industry is artificial intelligence. The detection of anomalies by sensors and the ability to elaborate scenarios and predictions by artificial intelligence are very useful. New predictive maintenance models in the industrial sector reduces the time to act on a problem and maintenance costs. All this must be accompanied by a reliable and resilient safety system.
Telefónica as a technological partner of the industrial sector
Telefónica has been contributing to the industrial development of companies for almost 100 years. Not only as a global leader in ultrabroadband infrastructure in Europe and Latin America, but also as a digital partner of industries. With experience in all sectors, we manage remote operations and services (in Spain alone to more than 1,500 companies). Also, we develop innovative solutions tailored to business needs.
We provide special support to the digital transformation of SMEs with focused digitization solutions while relying on local partners leveraging the opportunities of industries in the region. As a technology partner, Telefónica lends its expertise and capabilities to drive smart, sustainable and connected industry transformation.
In the digital Transformation Handbooks we present some examples of transformation cases.
Advantages of Connected Industry 4.0
It is essential for industry to take advantage of the opportunities offered by digitalization to drive its transformation. Through this, the industry increases its competitiveness, boosts innovation and generates new sources of revenue. Digital solutions, such as 5G, cybersecurity and artificial intelligence or use of data promote a more flexible, secure and connected industrial development along the value chain.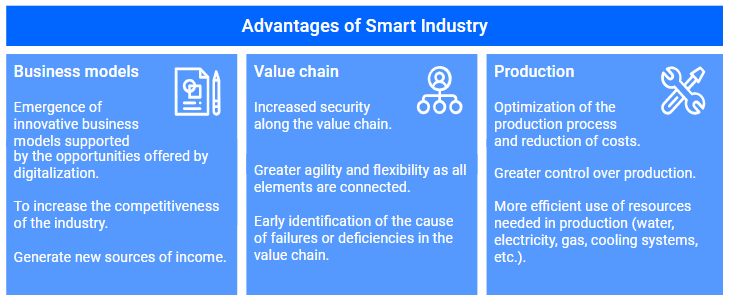 Optimization
The introduction of drones in certain industries with large infrastructures allows a more efficient use of resources and reduces operating costs. For example, in the electricity sector, drones equipped with sensors are used to ease the inspection of electrical networks and identify possible incidents. Thus, this avoids displacements and optimizes maintenance activities.
Another case to highlight would be the use of 5G, edge computing and artificial intelligence in El Corte Inglés to optimize logistic routes. In this way, the displacement between the collection of a package and the next one, always follows the shortest route.
Improved decision making
5G technology, together with edge computing, makes it possible to connect the physical elements of the factory with virtual models residing in the network. This enables the industry to make decisions based on data and statistics. An example would be the manufacturing company Gestamp. In addition, predictive maintenance systems such as iPdm and Asset Web Monitor make it possible to analyze and elaborate alternative scenarios that visually display monitored data. In this way, it applies the most efficient, safe and sustainable solution.
Increased security
Smart and connected industry enables cybersecurity to be integrated along the value chain. This prevents failures and provides a rapid response to any incident. High-performance centralized management enables a qualitative leap in information protection while securing the critical infrastructure of industries. Cepsa is an example of the application of these cybersecurity systems.
On the other hand, it is also important to design a people-based security system. In this line, Telefónica has implemented a 5G pilot at APM Terminals to monitor in real time any operations. Through this system, factory operators receive exact location of heavy machinery and informed of possible collisions through an alert system. This reduces the number of accidents and increases worker well-being.
Reduced environmental impact
Predictive maintenance has the capacity to reduce the environmental impact and favor the circular economy of the industrial sector. Gas leaks and excessive hot spots can be detected through sensors, preventing the deterioration of nearby natural spaces and possible fires caused by hot spots.
Likewise, drones recognize the terrain to see whether there is any disruption to the natural environment. For example, the electricity industry uses drones to check stork nests formed on towers. Thanks to this, these nest can be moved to a safe area. Likewise, cameras attached to sensors can detect the corrosion of any components. This enabled the company to repair them before they break down and need to be replaced.
Connectivity and new technologies are the two axes of Industry 4.0, giving way to a smart, connected, resilient and sustainable industrial sector. Enhancing the digital transformation of industry would increase its competitiveness to evolve and thrive in an ever-changing landscape.