Energy and climate change
At Telefónica we want to do more with less. Our commitment can be seen in the new energy and climatic change objectives we have set, in line with the global commitment to not exceed 2ºC in temperature (2DS), according to the Paris Agreement.
Our objectives for 2015-2020 are not only compatible with the expansion of the network and quality of service, but will also help us to be more competitive:
Reduce energy consumption by 50% per unit of traffic.

Start to decouple our growth in Greenhouse Gas emissions, reducing them 30% in absolute terms sources in 2020 and 50% in 2030.

Save 90 million euros for energy efficiency projects.

Commit to renewable energies as a sustainable source for our business, using 50% of electricity from renewable sources in 2020 and 100% in 2030.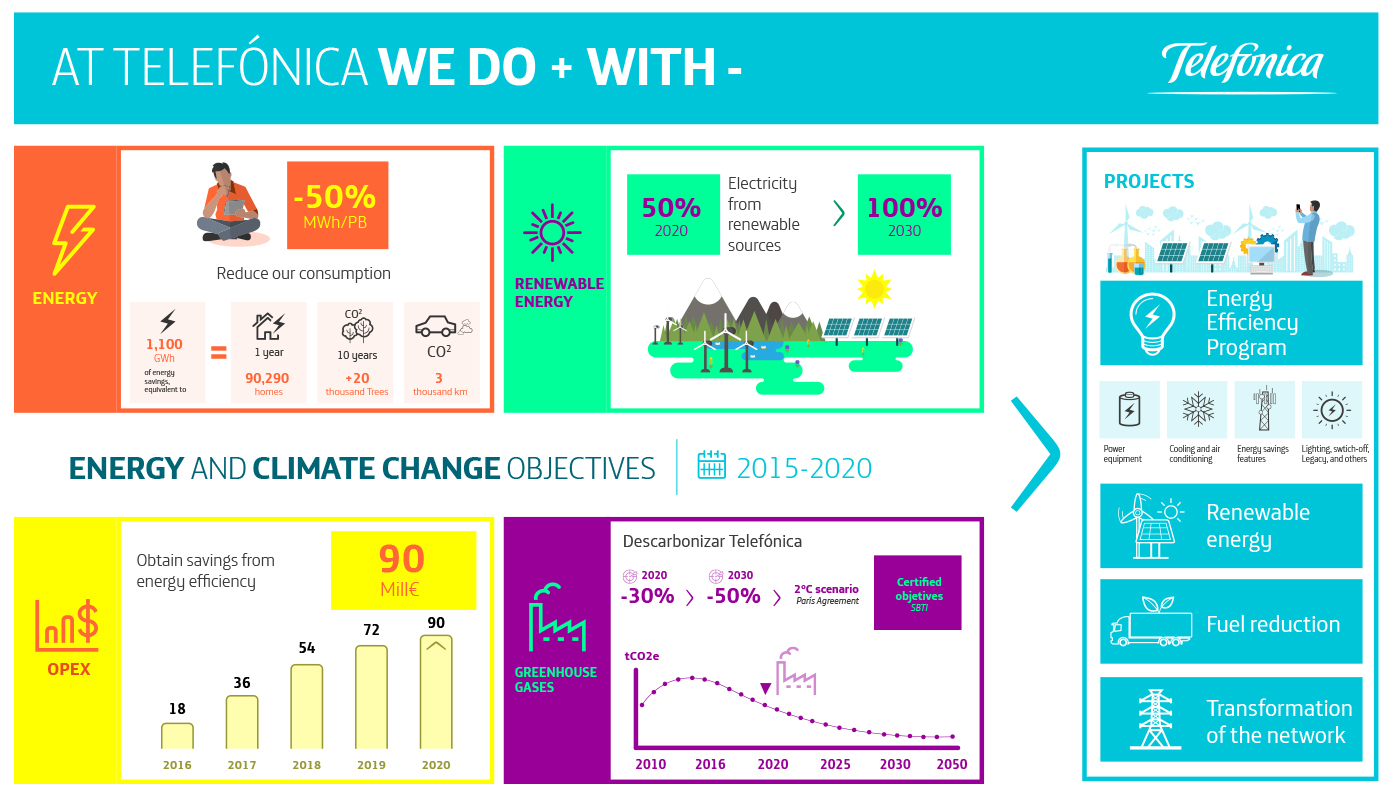 > Click on imagen to enlarge
In order to make all of this possible, Telefónica has an Energy Efficiency Programme and we are going to promote fuel reduction, the transformation of our network and the use of clean energy.
In 2016 we reduced energy consumption per traffic (energy intensity) by 34%
In the framework of this Programme, in 2016 we conducted 130 initiatives on energy efficiency and the reduction of GHG emissions in our networks and offices, with which we managed to save 211 GWh, and 22 million euros in our annual electricity bill. In this way, we avoided the emission of more than 68,229 tonnes CO2 equivalents.
We reduced our CO2 emissions by 26% in the last year
In addition, thanks to our Renewable Energy Plan, 43.6% of electricity consumption comes from renewable sources, which is equivalent to the average annual consumption of 203,749 households. This has allowed us to reduce our emissions of Scope 2 by 480,302 tons of CO2 equivalent.
Renewable energy

Our Renewable Energy Plan includes four action areas, depending on the markets in which we operate and the regulations in force in each one: acquisition of renewable energy with a guarantee of origin, long-term power purchase agreements (PPA), shorter duration, bilateral agreements and self-generation.

The purchase with a guarantee of origin helps us to make advancements in Spain, representing 79% of electricity consumption in this country, and 100% of the renewable energy source operations in the United Kingdom and Germany.

44% of the energy that Telefónica consumes on a global level, is now renewable

PPAs are the preferred course of action in Latin America, where the agreement with Telefónica Mexico for the power supply is noteworthy; it will have two photovoltaic solar power plants that will be operational by the end of 2017 and will supply our operator for 15 years. This represents 50% of its annual electrical energy consumption.

In 2017-2018 the subscription of new PPAs in other markets where the regulations allow this, such as Chile, Argentina and Colombia is planned.

We are 100% renewable in Germany and the United Kingdom and in Spain this energy represents 79% of our consumption

Bilateral agreements are available in various countries: in this way we acquired renewable energy in Brazil, where we are the company with the largest number of buildings in the free market in energy. These are short to medium-term acquisitions, between 2 and 5 years, which provide us with a saving of more than 15 million euros a year. Other countries, such as Telefónica Chile, Peru and Colombia have also undertaken projects for the purchase of clean energy.

Finally, in Telefónica we encourage self-generation through solar panels such as those we have installed in our business complex in Madrid, Distrito Telefónica. Currently, we are in the process of installing 16 solar photovoltaic plants in rural sites, in Uruguay.

We are committed to becoming 100% renewable by 2030

In addition, in the last 2 years we have invested 1.4 million dollars in photovoltaic generation systems in Colombia, which has allowed us to replace the equipment that used to consume diesel fuel 24 hours a day.

Energy efficiency

In Telefónica, we work in different aspects to do more with less:

Lighting: Replacement of fluorescent lights with LED technology and installation of presence detecting sensors.
PSF (Power Saving Features): Activation of energy saving functions during periods of low traffic in our base stations and centres.
Cooling: Technological update of the cooling devices and the installation of free cooling facilities, especially in the base stations and centres.
Power: Technological update for power units and substitution of poor efficiency rectifiers.
Transformation of the Network: Shut down of old equipment, Network upgrades and location optimisation.
Renewable self-generation: Implementation of renewable systems for self-consumption and reduction of fuel consumption.
Others: Configuration of our network equipment to improve its efficiency.

In all of this the support from our ever innovating partners, with whom we establish innovative collaboration agreements is fundamental.

Alongside this, we continue to reduce the consumption of fossil fuels in operations and in our fleet of vehicles, replacing them with more efficient and clean sources of energy, using fuel efficient vehicles and decreasing the distance travelled thanks to an improvement in the management of the fleet.

Energy inventory and CO2

At Telefónica, we analyse our energy consumption each year and we calculate the carbon footprint globally in accordance with the Greenhouse Gas Protocol, the ISO 14064 Standard and the ITU-T L.1420 Recommendation: Methodology for energy consumption and greenhouse gas emissions impact assessment of information and communication technologies in organisations, of the International Telecommunication Union (ITU).

Every year, we carry out an independent process to check energy and emissions data in order to obtain quality information about the energy we consume and the greenhouse gases we emit into the atmosphere.

This enables us to identify improvements in the processes and to manage energy and carbon in a transparent manner. Based on this quantification and verification, we evaluate fulfilment of the global energy reduction objectives.

> click on image to enlarge
Discover our Energy Management Policy
Responsible Business Channel
TELEFÓNICA, member of the initiative RE100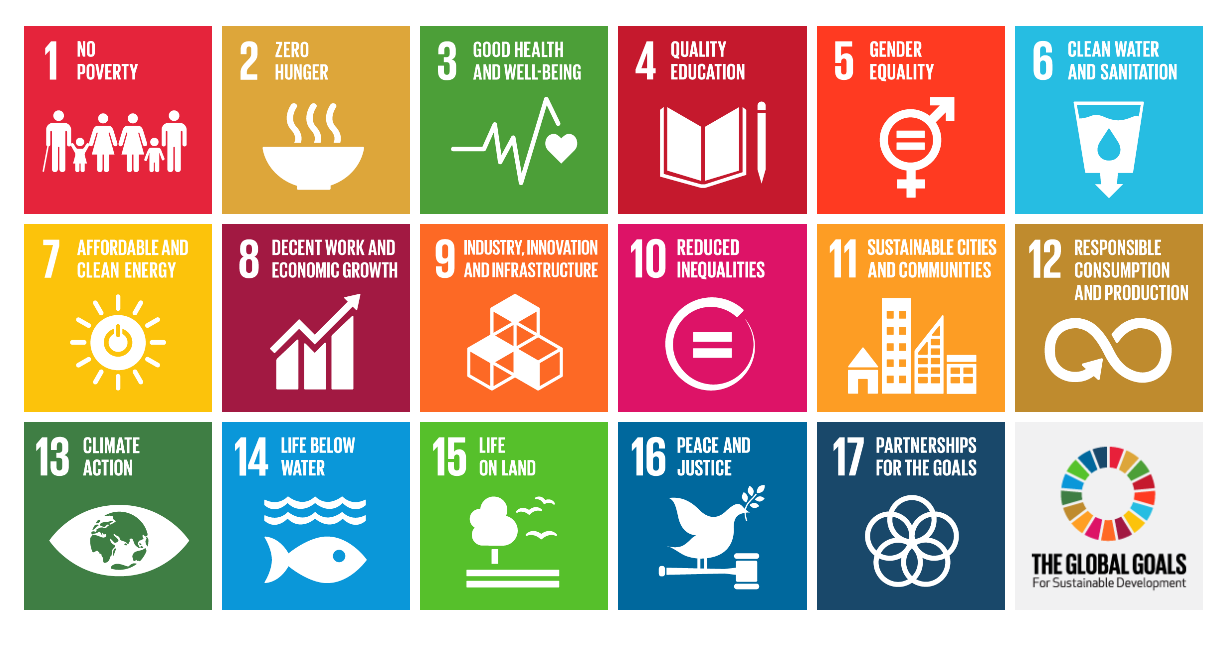 The Sustainable Development Goals are the most ambitious programme in history to address the major social and environmental problems facing humanity. Internet and digital solutions are essential tools to achieve more than half of the established goals, all with connectivity as a base. They are the allies we use in Telefónica to help build, together, a better world, where no one is left behind.
Climate Change and Energy Efficiency Office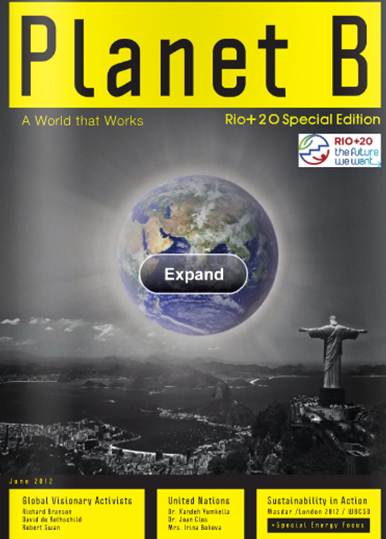 Telefónica's Climate Change and Energy Efficiency Office promotes efficient energy use in the company and identifies opportunities to reduce CO2 emissions. For their part, the Energy Managers are responsible for developing projects in the different countries. They belong to the Operations teams and work closely with this office.