News from Telefónica in # MWC19
February 27th, 2019
"Conecta Empleo", Fundación Telefónica's digital training programme, aims to prepare young people for the reality of the workplace, which currently requires digital knowledge and transversal and entrepreneurial skills. Through technology, at Telefónica we want to make our world more human and thanks to this type of programme we can facilitate the adoption of the qualities necessary to train the best professionals.
February 27th, 2019
Aura, our virtual assistant evolves and grows to provide new features to customers. If until now Movistar Home's users could manage all their communications services, they will already have the possibility of, for example, confirming their next flight. It is people who make sense of technology and to do this, with the help of other partners and companies, we launched Movistar Living Apps, an ecosystem that allows us to enrich the experience of our customers.
February 27th, 2019
A set on our stand at the MWC, in collaboration with Ericsson, Idronia and Samsung, presents a new way of producing TV content with 5G. TV stations and producers will no longer depend on fixed network deployments and will save time and costs to cover news events with professional quality and in real time. Connectivity, the oxygen in this digital world, is transformed and provides quality services in all professional environments.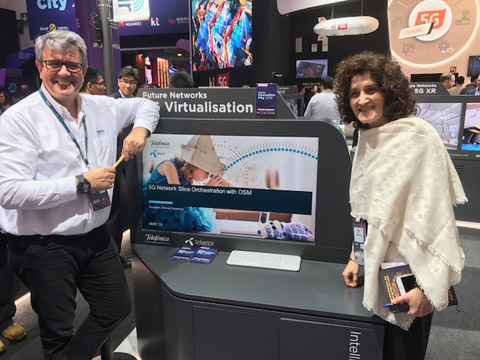 February 27th, 2019
Our stand at MWC19 is the setting for the 'network slicing' demo that we have developed jointly with Telenor. With the aim of transforming our network, making it smarter and providing it with third-party applications and solutions to improve its efficiency and capacity, we are launching these types of initiatives. Connectivity the oxygen of this our digital environment, transforming our network, to make it more efficient, we improve the experience of users.
February 26th, 2019
Our Ágora has been the setting for the 1st game of professional esports players in Europe who have demonstrated what it's like to play with 5G, as the network provides the best user experience thanks to low latency and maximum speed. In this digital environment, connectivity is the oxygen that allows us to already provide a professional 5G gaming experience, which will mean a radical change in the future of video games.
February 26th, 2019
Berto Romero and David Broncano have been at our space in #MWC19 where they have shared with the visitors a few minutes in which they have promoted the second season of 'Mira lo que has hecho'.
February 26th, 2019
A permanent deployment of 5G technology, using Telefónica's commercial band and a 360º camera network, will allow you to enjoy for the first time the broadcasting of a FC Barcelona training session from anywhere and using virtual reality glasses. With this initiative, Telefónica continues to work on increasing relevance with its customers, boosted by technology and cognitive abilities.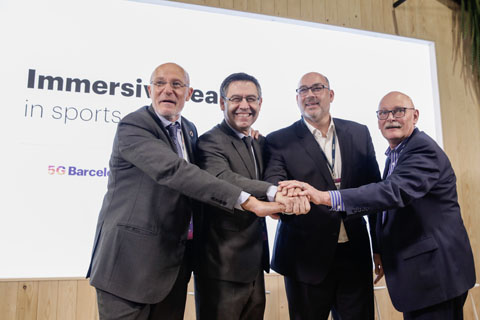 Februray 26th, 2019
Connectivity is the oxygen of this digital world and this new model of open and dynamic access network will make it possible to anticipate the growing demand for customer data. This prototype represents how we understand the future network ecosystem: open and collaborative so that other industry players can integrate their solutions. This project will give us the ability to offer ultra-broadband connectivity with low latency.
February, 25th 2019
We signed an agreement with Microsoft to enhance, among other things, our customers' digital experiences through the use of artificial intelligence. This agreement will allow us to combine our latest generation networks and our differential proposal with the Microsoft Azure AI platform to design the services that telcos will offer in the future. At Telefónica, we believe that it is people who make sense of technology, always within a framework of security and privacy, and thanks to this agreement we will deepen our work on cognitive abilities.
February, 25th 2019
Our stand at #MWC2019 was visited by HM King Felipe VI who, accompanied by the president of Telefónica, José María Álvarez-Pallete and other personalities from the sector, saw how technology and connectivity make our world more human.
February 25th, 2019
The Chairman and CEO of Telefónica has pointed out the key role connectivity plays in the new data economy with traffic increasing exponentially driven by the explosion of new technologies and services. "All these services will be possible thanks to telco infrastructure underpinning the digital world. Technology is amazing, but connectivity is awesome".
February 24th, 2019
Telefónica, Facebook, Development Bank of Latin America and the Inter-American Development Bank are working together to reduce the digital divide in Latin America. Digitization, a determining factor for economic and social progress, has connectivity as the key to reducing this gap. Thanks to 'Internet for All', 100 million people will have adequate access to mobile broadband. Our mission is to build a fairer and more responsible world without leaving anyone behind.
February 24th, 2019
The 5G transforms the connected car into another city sensor, giving us an incredible security at the wheel. In this edition of MWC, together with our partners, we have turned an area of Barcelona into a 5G environment where pedestrians and drivers can see the safety benefits provided by the connected car. This is yet another example of how connectivity improves our environment.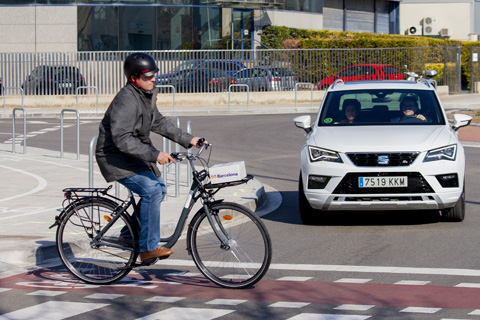 February 18th, 2019
The advances around the connected car draw a scenario where connectivity will be the oxygen of the digital world. In this framework, and with the intention of being more relevant to our customers taking advantage of technology, we present together with SEAT this vehicle equipped with C-V2X technology. In the future, connectivity will provide a 6th sense for safer driving.