Telefónica will retain its links with the team until at Least 2019
The team, led by Eusebio Unzué, will once again include the great leaders, Nairo Quintana and Alejandro Valverde, in a line-up that offers a mix of experience and youth (10 cyclists under the age of 26)
"The Blue Team" are the undisputed leaders in the digital field, with more than 1,200,000 followers on social media, and reaffirm their commitment to technology thanks to the use of Big Data to enhance the team's performance
As winners of the UCI World Tour for the past four years, the Telefónica team has set itself the goal of achieving the best possible podium position in the Tour de France, and repeating the results of 2016, one of the best years in its history, with a record number of victories in one season (36)
Madrid, 25 January 2017. Telefónica presented today the 2017 Movistar Team, which has been recognised for the past four years as the best cycling team in the world by the International Cycling Union. During this event, the Blue Team presented José María Álvarez-Pallete with the winners' trophy that accredits the aforementioned epithet.
Team Director, Eusebio Unzué, and Carlos López-Blanco, General Manager of Public Affairs and Regulation at Telefónica, assessed the present and future prospects of a line-up of 28 elite international riders, with six new additions, nine nationalities and ten riders under 26 years of age – a symbol of the team's commitment to the future.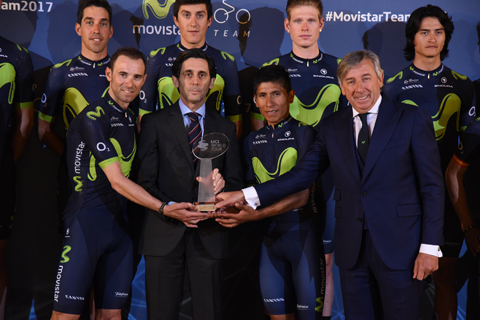 Unzué once again expressed his gratitude to Telefónica and to all the team collaborators and emphasised the goals for the season: "It is clear that the Grand Tours will once again be our great objective, and after having achieved a podium place for the past few years, we aim to fight again for the Tour de France, the only one of the three that we still have not won with the Movistar jersey. And although it will be very difficult to finish as the best team in the world again, we will try to maintain our consistency throughout the year, which has earned us that title these past four years."
In a similar vein, Carlos López-Blanco stated: "For another year, Telefónica celebrates the winning partnership with Movistar Team, which will continue until at least 2019, as we announced last year. It is worth mentioning that nearly half of all Blue Team is under 26 years of age, which represents a youthful contingent that will fight all the way for victory under the expert support, for another year, of Quintana and Valverde."
The event also served to highlight the joint efforts of Telefónica and Abarca Sports to develop the sport of cycling through technology. Chema Alonso, Chief Data Officer at Telefónica, explained how Big Data, through LUCA – Telefónica's Big Data unit, is using all the race data generated by the Movistar Team in order to support the planning of training for each rider and provide new critical decision variables as part of competition strategy.
The remarkable digital support for the team should also be highlighted, with more than 1,200,000 followers of their profiles on Facebook, Twitter, Instagram, YouTube and SoundCloud, complemented by the www.movistarteam.com website.
In 2017, Movistar Team, which will begin its season in Spain tomorrow with the first day of the Mallorca Challenge, will once again fight for victory in the Tour de France, after the four podiums obtained the past four years by Nairo Quintana and Alejandro Valverde. It will be the main goal in a year in which the Giro and the Vuelta and the best one-week races and classics on the world calendar will be the benchmarks in the fight for their fifth consecutive top spot of the UCI World Tour.
MOVISTAR TEAM LINE-UP – 2017
Riders:
Andrey Amador (Costa Rica, 30 years old)
Winner Anacona (Colombia, 28)
Jorge Arcas (Huesca, 24)
Carlos Barbero (Burgos, 25)
Daniele Bennati (Italy, 36)
Carlos Betancur (Colombia, 27)
Nuno Bico (Portugal, 22)
Richard Carapaz (Ecuador, 23)
Héctor Carretero (Albacete, 21)
Jonathan Castroviejo (Vizcaya, 29)
Víctor de la Parte (Álava, 30)
Alex Dowsett (Great Britain, 28)
Imanol Erviti (Navarra, 33)
Rubén Fernández (Murcia, 25)
Jesús Herrada (Cuenca, 26)
José Herrada (Cuenca, 31)
Gorka Izagirre (Guipúzcoa, 29)
Adriano Malori (Italia, 28)
Dani Moreno (Madrid, 35)
Nelson Oliveira (Portugal, 27)
Antonio Pedrero (Barcelona, 25)
Dayer Quintana (Colombia, 24)
Nairo Quintana (Colombia, 26)
José Joaquín Rojas (Murcia, 31)
Marc Soler (Barcelona, 23)
Rory Sutherland (Australia, 34)
Jasha Sütterlin (Germany, 24)
Alejandro Valverde (Murcia, 36)
New members for 2017 in italics.
Staff:
Director: Eusebio Unzué. Manager and Technical Director: Alfonso Galilea. Sports: José Luis Arrieta, José Luis Jaimerena, Chente García Acosta, José Luis Laguía, Pablo Lastras. Mechanics: Tomás Amezaga, Aritz Berruezo, Fermín Gómez, Alexander Gubanov, Senen Pintado, Fernando Sánchez. Massage Therapists: Iñaki Aranguren, Iñaki Arraiza, José Ángel Arenas 'Guaje', Garikoitz Baños, Ignacio Bernardino 'Tato', Juan Carlos Escámez, Fernando Gómez, Javier Iriarte, Borja Jaimerena, Mikel Otero. Doctors: Jesús Hoyos, Alfredo Zúñiga, Eduardo González Salvador. Coaches: Mikel Zabala, Manuel Mateo, Jorge Sanz. Osteopath: Íñigo Michelena. Chef/Nutritionist: Lorenzo Pajares. Marketing: Juan Pablo Molinero. Communications: David García, Sebastián Unzué, Daniel Sánchez. Administration: Javier Valera, Francisco Fdez. Maestre, Verónica Lorca, Elena Sánchez.
Press dossier available at https://www.telefonica.comhttps://www.telefonica.com/en/wp-content/uploads/sites/5/2021/10/PB2B20172BDigital.pdf