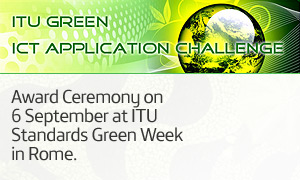 The application "Smart Recycling" has been awarded the winner of the first ITU Green ICT Application Challenge. The global competition was organized by ITU and supported by Telefónica and Research In Motion to identify innovative applications that can help improve energy efficiency and combat climate change.
Designed by Ms. Lis Lugo Colls, from Spain, the application aims to help mobile users locate recycling and garbage bins within their area. The application will benefit citizens, government recycling programs and private recycling companies by creating a more sustainable and resource-efficient future through community engagement and eco-design.
Four special mentions were made by the jury to the applications "Make Me Green – Delivering Context-Specific Suggestions for a Green Lifestyle", by Stephen Reiter and Simone Ferlin (Germany), "Effi-e Play Green", presented by Maria Dolores Rodriguez De Azero (Spain), "Mobile App to Use a Vehicle to its Fullest Capacity", by Praneel Raja (India) and "A Community-Based System for Biodiversity Degradation", by Euphraith Muthoni Masinde (Kenya).
These applications touch upon related issues such as raising awareness of the impact that lifestyles have on the environment, monitoring energy and water consumption in hotels, promoting car sharing and sharing traditional and indigenous knowledge on biodiversity and conservation.
The winner of the competition will present their application 6 September, during the upcoming ITU Green Standards Week, to be held in Rome (Italy) from 5 to 9 September. As winner of the competition Lis Colls will receive a cash prize of USD 10,000 to further develop the application.
ITU would like to thank all developers for their interest and participation in this first App challenge. Overall 54 applications were received covering topics such as monitoring climate change, measurement of GHG emissions, adaptation and mitigation to climate change, community engagement.
A multidisciplar team evaluated the proposals with a methodology specifically designed for the contest. From Telefónica, the assessment of green issues was conducted by the Office of Climate Change and Energy Efficiency and technical aspects and relative to the future implementation of the application were provided by Bluevia.
Hosted by Telecom Italia, the cluster of workshops that make up the event will focus on raising awareness of the importance of using ICT standards to build a green economy and combat climate change. The week can help in preparation for the Earth Summit Rio +20, to be held in 2012.
The first workshop will focus on methodologies for environmental impact assessment of ICT, and will examine work underway to measure the impact of ICTs on climate change, and how to standardize the way to calculate the reduction of GHG in ICT operation.
A second workshop will look at moving to a green economy through ICT standards, exploring how ICTs can help to address climate change and build a green economy, and shedding light on standards, policies and best practices. This workshop will be jointly organized with Telecom Italia and will be opened by the Italian Minister of Economic Development, Paolo Romani. The Climate Change Office of  Telefónica will present how applications can be used in cities, within the Smart City Model of Telefónica.
The third workshop (8-9 September) in the series will focus on using submarine communication networks to monitor the climate and the ocean. Telefónica International Wholesale Services (TIWS), a subsidiary of Telefónica, will participate in the workshop. TIWS has a TIER 1 Backbone offering direct connectivity between Latin America, USA and Europe through a large international fiber optic network including, among others, the submarine cable, Sam-1. The company carries over 20 billion minutes of international voice a year through its NGN network and its more than 300 direct routes with international carriers.
Click here for further information on the competition. More information on ITU's activities on climate change is available at www.itu.int/climate.