Lourdes Tejedor / @madrid2day
Community Manager y Editora. Telefónica S.A.
It's many more than five -just our energy efficiency projects in 2016 total 130- but we wanted to highlight these because of their impact or novelty. Take note! 
Jump in renewals
In 2016, 44% of the energy we consumed was renewable. It was only 21% just a year ago! We're already 100% renewable in Germany and the UK, and we just reached 79% in Spain. Did you know that Telefónica is the company with the greatest number of buildings in Brazil's energy free market. The challenge? To be 100% renewable globally by 2030.
This goal has allowed us to join RE100, a global initiative that includes companies like Apple, Facebook, Google or Ikea to drive a low carbon economy. We'll tell you more here.
Mobiles that consume less energy
Which would you say are the most sustainable mobiles in Movistar Spain's catalogue? Samsung's J Series and Huawei's P10 family. We know this because of the Eco Rating seal included in the Huawei/Honor, LG, Motorola, Samsung, Sony, and ZTE models. We have Eco Rating in Germany, Brazil, Chile, Spain, and the United Kingdom, and the challenge is to extend the seal to all countries and all manufacturers.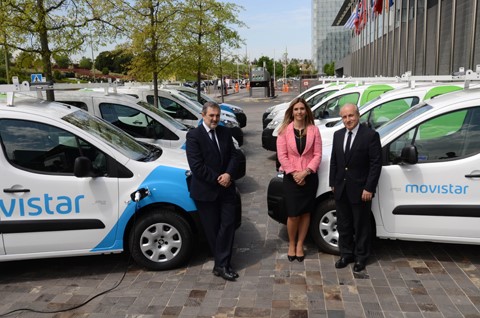 More electric vehicles
We're reducing the fuel we use in the network, replacing it with clean energy and in the fleet of vehicles. Telefónica Spain is a pioneer with the incorporation of ten electrical vans. The challenge? To facilitate this choice to employees. To move forward, we will soon have a Mobility Plan for the Telefónica District and 64 recharge points in the complex when the new parking area opens.
We even digitalize waste
In 2016, we reduced our waste by 12%, but we understand that this isn't enough. We want to reuse more equipment and materials. To this end, we're digitalizing the management of our waste throughout the world with a software made in Spain.
New revenues
New Smart Energy and Smart Transport services accounted for 51.5 million Euro in revenue last year. We have more solutions, for example Big Data, that benefit the environment. The goal is to implement them in more companies and cities.