Editorial Staff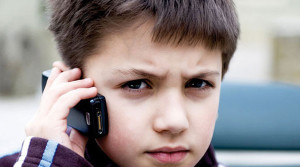 Once again, Universal Children's Day took place on 20 November. This date is significant as the International Convention on the Rights of the Child was held on the same day in 1989. The Convention is an international treaty that was the most important milestone in the history of children's rights, as it gave children the level of rights as any adult, and gave them special protection as a vulnerable collective. In addition, compliance with what was agreed upon at the Convention is obligatory for all the countries that have ratified it.
2014, marks the 25th anniversary of that milestone, and GSM Association (GSMA) has joined forces with Child Helpline International (CHI) to promote child protection throughout the world. The agreement sets out a roadmap for the promotion of helplines throughout the whole world, including measures to strengthen relations between national mobile operators and their helplines in their country, and foster collaboration on topics such as making the Internet safer for children.
Telefónica is among the GSMA member operators that have given their support to the helplines. In addition, other carriers have supported this initiative, such as Airtel, Avea, Axiata, Bouygues, China Mobile, China Unicom, Deutsche Telekom, Digicel, KDDI, KT, Millicom, NTT DOCOMO, Nuevatel, Ooredoo, Orange, SK Telecom, STC, Telecom Italia, Telekom Austria, Telenor Group, TeliaSonera, Telstra, VimpelCom, Vodafone and Zain. Mobile operators have committed to assisting in establishing a helpline if one does not already exist nationally, increasing awareness of these helplines, and offering technical or financial support.
"Telefónica is a global company that supports helplines throughout Europe and Latin America. This agreement between GSMA and CHI strengthens our commitment to children and young people. Telefónica actively supports the use of technology to improve children's well-being and quality of life", said Carlos López Blanco, General Director of Public Affairs and Regulation at Telefónica S.A.
"The UN International Convention on the Rights of the Child was established in 1989, the same year in which the World Wide Web was born. Increasingly, children around the world are using mobile phones to access the Internet, with social networks and applications, as well as to make calls and send messages. Our agreement with Child Helpline International will strengthen efforts by mobile operators to protect and support the safety of young people in our connected society", said Anne Bouverot, General Director of GSMA.
"I am delighted to formalize this crucial alliance with GSMA, by signing a Memorandum of Understanding to work together in our shared goal: to answer every call from every child," said Nenita La Rose, Executive Director of Child Helpline International. Every two seconds, a child somewhere in the world contacts a helpline. The problem is that due to a lack of resources, almost half of those calls do not get answered.