Climate change is universal and intensifying, occurring at an accelerated rate. That is the key finding of the latest scientific report from the Intergovernmental Panel on Climate Change. No one can be indifferent to this problem.
Companies are striving to reduce their carbon footprint in their own operations, but they must also engage their suppliers. In this way, companies do not only contribute to curbing climate change, but also become more resilient and competitive.
At Telefónica we are fully committed to reducing emissions throughout our value chain. Our target -validated by the Science-Based Target initiative– is cutting them by 39% by 2025 compared to 2016 and achieving "net zero" by 2040.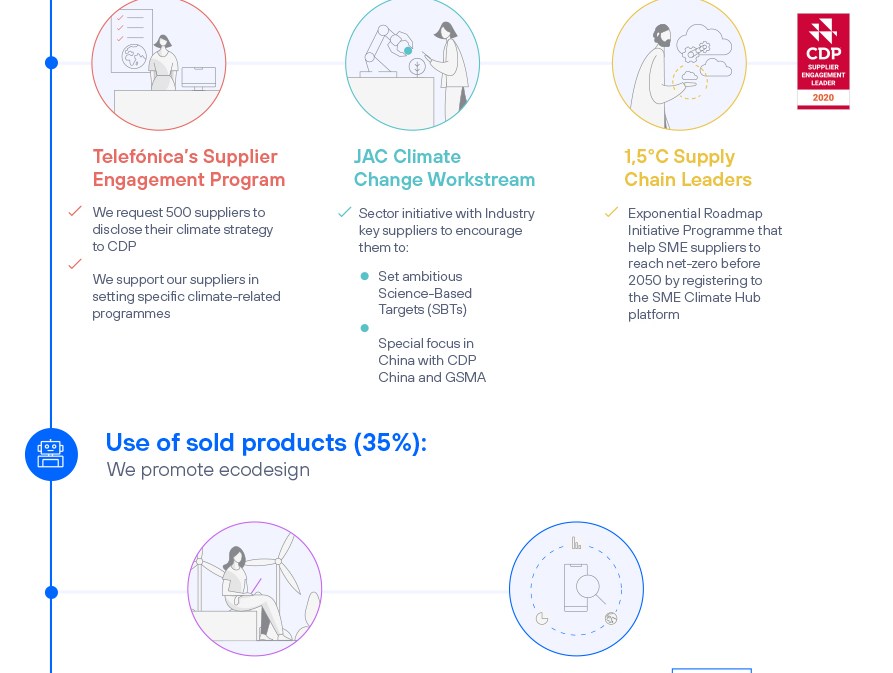 The main Scope 3 emissions of our value chain (56%) come from purchases from our supply chain. We have reduced these emissions 27% versus 2016. We know this because we annually calculates our carbon footprint in all scopes following the Greenhouse Gas Protocol. These data are verified by an independent entity, AENOR.
To move forward and curb Scope 3 emissions even further, we have different supplier initiatives in place:
Telefónica's Supplier Engagement Program
We have been working for two years with our most important suppliers in our Supplier Engagement Program. The suppliers included in this programme represent 66% of the emissions from our supply chain and 37% of our total Scope 3 emissions.
The aim is to gather information from our suppliers to understand through a set of specific criteria the maturity level of their climate strategies and help them set even more ambitious targets.
This year we have asked up to 500 suppliers to disclose their responses into CDP Supply Chain 2021 questionnaire. Through this campaign, we aim at gathering reliable information regarding their carbon footprint management and, on this basis, engage with these suppliers to contribute to achieving our Scope 3 objectives.
JAC Climate Change Worskstream
What is more, we are proud to lead the JAC Climate Change Worskstream, a new sector-based working group as part of the Joint Audit Cooperation (JAC) initiative.
In this working group, more than a dozen of the largest telcos in the world work together to require all strategic suppliers to set Science-Based Targets (SBTs). As part of the 2021 initiatives of this workstream, we have approached the CEOs of our common suppliers by sending joint letters with GSMA, encouraging these suppliers to set Science-Based Targets and/or become more ambitious.
In parallel, we receive important support from CDP China, which is encouraging various companies in this region to commit to reducing emissions by setting Science-Based Targets. The CDP China project includes training and support to these companies so that they can improve their carbon management.
Focus on SMEs
Lastly, we are part of the 1.5°C Supply Chain Leaders program, whose target group are small and medium-sized companies. The objective is to motivate suppliers to register in the SME Climate Hub, where they can find tools to set goals and improve its management approach. In this context, we ask suppliers three commitments recognised by the United Nations Race to Zero campaign:
Halve greenhouse gas emissions before 2030
Achieve net zero emissions before 2050
Disclose progress on a yearly basis
CDP considers Telefónica a Supplier Engagement Leader for helping suppliers to reduce their CO2 emissions
More ecodesign in devices
On the consumer side, the use of sold products accounts for 35% of our emissions in Scope 3. At Telefónica, we are working to promote ecodesign so as to reduce these emissions from devices such as routers and smartphones. For example, our current router consumes 30% less energy than the previous model.
Responsibility by Design is the approach that we apply in the design of our new products and services to turn sustainability into a key innovation factor. We incorporate matters such as eco-design from the outset. This approach includes training to product managers/ designers and developers as well as guidelines and self-assessments of our new products to make sure they meet the criteria or to identify possible improvements.
In addition, Telefónica has launched Eco Rating, a new environmental pan-industry scheme for mobile phones that will help consumers identify and compare the most ecological smartphones and encourage suppliers to reduce their corresponding impact. With this new methodology, manufacturers must evaluate 19 aspects of smartphones, including climate efficiency. We trust that as consumers demand more efficient mobiles, manufacturers will make them. Today 12 mobile phone brands are involved and we hope others will join soon.
In short, joining forces will help us to be better companies and to build a greener world.