Editorial Staff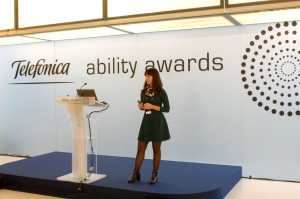 People with chronic kidney disease should meet very complicated diets and take a lot of drugs. Monitoring all of this is a hard task for patients. Precisely, in order to help these people, RenalHelp was born from the hand of its CEO, Tais Pérez. General health psychologist, specialist in kidney disease, this young Canarian has arrived to the world of entrepreneurship. His work experience made her open her eyes.
Renalhelp, finalist of the new category of Telefonica Ability Awards "Innovation for Inclusion", is a web platform and mobile application designed to help families and patients with chronic kidney disease to live better with their condition, and satisfy their basic needs. It connects patients with their healthcare providers.
The difficult that supposes to strictly follow the treatment, results in a lower life expectancy of the patient. Very few people fulfill medical and dietary prescriptions in the right way, with few relatives having access to information in order to take care of them.
Patients with chronic kidney disease suffer a radical change in their lifestyle since their diagnosis taking into three pillars: nutrition, medication and exercise. But that's not all, social support is also a key pillar for the adherence to the treatment and also to try to avoidas far as possible, suffering depression and anxiety.
What is Renalhelp?
Renalhelp structures the app into 4 sections to make it quick and easy to use, three of which are part of the 3 pillars of self-care:
Nutrition: Diets and customized recipes.
Sports: exercise tables and possibility of asking a personalized one if you have any special medical conditions such as the amputation of a limb.
Medication: Medication search engine.
It also includes a fourth, composed of a forum where users ask and within 48 hours healthcare professionals answer.
The diagnosis of a chronic disease has a great impact on the person who receives it and has highlighted the need for more effective and efficient technologic channels of information and communication for proper follow-up treatments.
These new technological solutions, among which includes RenalHelp, offer many benefits: reducing emergency room visits, fewer hospital stays, reduce and delay hospital admissions, improve the quality of life of patients and increase satisfaction patients.