Telefónica Public Policy & Telefónica España Regulatory teams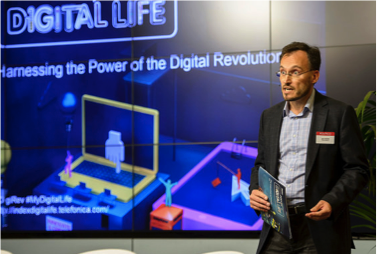 This month, Telefónica presented POLITICO's Annual Data Summit, bringing together 181 senior EU and national policymakers with business executives and other stakeholders.
The summit set the scene for a frank debate, titled 'Harnessing the Power of the Digital Revolution', which tackled how to make the most of the digital revolution across the world. Speakers included European Commission Vice-President for the Digital Single Market Andrus Ansip and Counselor, Delegated Duties of Under Secretary for Economic Affairs, and US Department of Commerce Justin Antonipillai among others.
Director of Strategy at Telefónica Digital, John Foster opened the event with a keynote address, in which he explored the opportunity presented by big data, both now and in the future.
He explained that the new services that will fuel our digital world in the future depend on the collection and analysis of data – including personal information. Data is now being put to work to transform transport systems, improve agriculture, reduce energy consumption, democratise education and bring medicine to all corners of the globe.
The flip side of these tangible benefits is that data is gaining an international reputation amongst the public – and not a great one at that. It is almost impossible to survive a week without hearing of a data breech, data theft or data loss reported in the press. This is steadily eroding digital confidence and trust. Without widespread trust, the benefits of data use could be lost.
John stressed that Telefónica is helping address this by giving the value of data back to customers. He said: "we are dedicated to ensuring that customer data is used to help customers, not used against them. This means allowing customers to choose to keep data private or to use it in new services".
John concluded his keynote by asking those present at the Summit to join Telefónica in exploring ways to offer transparency and control to consumers – not just by complying with legislation, but by working together to establish trust and explore what is possible – for the benefit of global citizens, future business success and society at large.
You can watch a video of the Summit here…
…and follow the conversation about harnessing the power of digital using #MyDigitalLife.