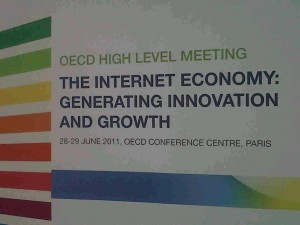 Again, welcome to Paris to follow the discussions on policies around Internet and its role for the global economy for the future!
Tomorrow the OECD will host during 2 days a High Level Meeting untitled "The Internet Economy: Generating innovation and growth", with top level speakers like Angel Gurría, OECD Secretary General, of course, or Vice-President of the European Commission, Nelly Kroes, and many others, representing countries, the telecoms industry, regulators, or top level people linked to Internet emergence.
The objective of this event is to reach a consensus on how to ensure the continued growth and innovation of the Internet economy, as a follow-up on the OECD Ministerial Meeting on The Future of the Internet Economy (17-18 June 2008) and the Seoul Declaration adopted at that meeting.
There will be different sessions focused mainly on the relevance of broadband and its contribution to innovation and the society, but also debates on policy goals and how to achieve them in the short term. I will be there to listen to all the speakers present and I will report back.
If you are interested in this event, you can access the agenda here to see the details, but also the background documents already issued for this event here.
For a lively following of the meeting, there will be a webcast, and of course through Twitter using the following hastag: #eOECD.
See you in Paris lively or virtually!