Although the turbulent year 2020 is about to end, it will be remembered as the year of the pandemic, but also, as the moment when our world was turned digital, with no turning back.
The unprecedented shutdown of economies and societies due to the COVID-19 pandemic has led to a challenging economic crisis. The shock has hit all countries and economic sectors and most of the world are facing a deep and uneven recession. Increased inequalities, a cruel setback especially for the youngest and poorest, and skyrocketing unemployment rates are raising the risk of a social crisis of historical dimensions.
Before this background it is also important to see that the current crisis also offers us an opportunity to reinvent and rebuild a better future, by taking advantage of digital technologies and leveraging on collaboration.
As highlighted this week during the IIC (international Institute of Communication) Annual Washington DC Conference in which I had the honour to participate, the  effectiveness and the rapid enablement of digital services and enhanced telecommunications networks had been a reliable partner during the pandemic. Connectivity and "being connected" are our best allies for maintaining our lives and economies, while health-care personnel and scientists are in the front line fighting the COVID-19 virus. In this regard, the pandemic has shown the essential dimension of connectivity infrastructures and the telecommunications sector has proven to be a reliable partner by ensuring the continuity of connectivity services.

The time has come to build back better our societies and economies
At Telefonica we believe that it is time to consider how our societies can recover from the current economic crisis and avoid a major social one. We are convinced that we have the opportunity to design a sustainable and inclusive recovery, through a new Digital Deal that better rebuilds our economies and societies.
Concrete measures will be needed such as: spurring the economy with infrastructure, using technology and innovation to increase productivity; bursting demand; investing in welfare state, inclusiveness and sustainability; and rebuilding cooperation, solidarity and institutional governance with closer and more agile ties. It is time to start the recovery, leveraged on widespread digitalization, and reinforcing the foundation of future growth.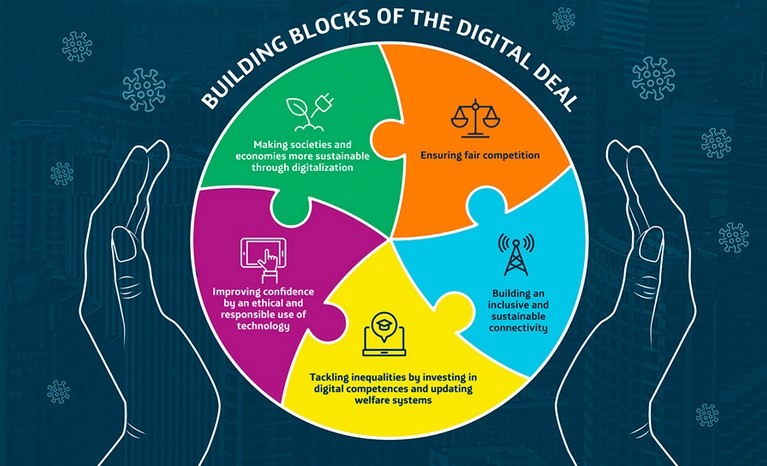 We are proposing a cooperative effort between the private and public around five pillars:
The first pillar is related to the need to fight inequality, mainly by investing in digital skills, retraining people, modernizing education, and adapting the Welfare State, labor, and social protection frameworks.
The second one aims to promote digitalization for a more sustainable society and economy, supporting key sectors, technologies, and innovation, accelerating the green transition and the digitalization of SMEs and Public Administrations.
Thirdly, we must build an inclusive and sustainable connectivity, strengthening and investing in very high-capacity networks that will provide us with competitiveness. We need more investments in networks and should review and change all policies and regulation that does not achieve to make investments in fibre and 5G networks more attractive. This is not an issue of importance for the telecom sector, but rather for the whole economy due to the transformative nature of fibre and 5G connectivity.
At the same time, fourthly, it is necessary to ensure a fair competition in the digital economy by modernizing the fiscal, regulatory and competition frameworks, to create a level playing field for all market participants and a regulation consistent with the new times.
Finally, we must improve trust and confidence through the ethical and responsible use of technology, respecting privacy, security, and other digital rights in a data economy.
In a nutshell, our Digital Deal asks for regulatory change to make digitalization and investments a solution to overcome the crisis but also proposed policies to support an inclusive and fairer digitalization where no one is left behind.
We are committed to close the digital divide, but we need also governments to modernize policy and regulatory frameworks to support new investments, fair competition and address the inequalities exacerbated by the current crisis.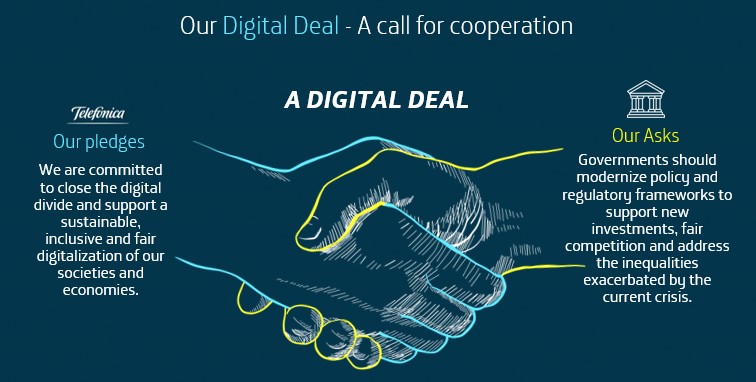 A regulatory paradigm adapted to the digital age
High-Broadband connectivity infrastructures are the backbone for digitalization and therefore we need a stronger, more competitive, and resilient telco sector in Europe and Latin America.
European markets are suffering from higher pressure on revenues, with a regulatory and market framework leading to insufficient return on investment, which is critical in an investment-intensive sector. Investment efforts have been increased in the region while resources were drained by declining revenues.
In Europe too much focus has been on policies that focus exclusively on lowering prices and too little has been done to assure the on long-term sustainability of the markets and adequate investments levels. The digital divide we see today has been to a large part created by short-term policy and regulatory decisions.
The "European dogma" has also led to a rejection of in-market consolidation or very stringent remedies and to the promotion of artificially supported new entrants. This is putting at risk telecom market sustainability in some regions and has created less investments in Europe than in other parts of the developed world.
Policymakers and regulators need to change its regulatory paradigm. A pro-investment policy framework is more important than ever, requiring deregulation and stopping regulatory devaluation of infrastructures. Regulation has been applied asymmetric only to traditional industries and services (like the telecom sector), with an unfair absence of Level-Playing-Field and devaluation of infrastructure-investments.
Looking ahead to 2021, the time has come to change that and build back better our societies and economies. More than ever, we need new policies for new times and challenges.