Editorial Staff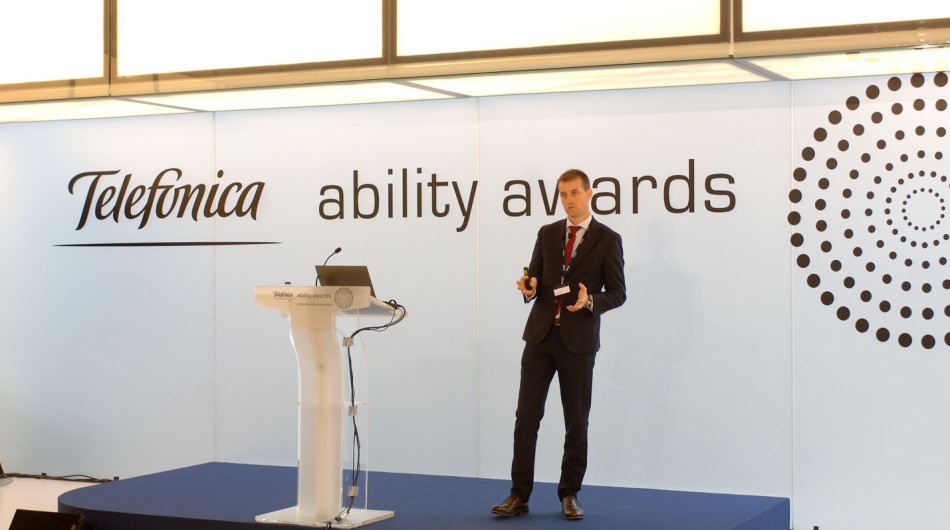 To move with precision through the screen of your computer. Are we talking about the future? Not anymore! To use a computre with the only move of our eyes is now posible. With the eyetracking this is already a reality. Thus was born in 2013 Irisbond, one of the three finalists for the new category of the Telefonica Ability Awards: "Innovation for Inclusion". Eduardo Jauregui is the head of this Project, which is supported by Vicomtech-IK4 (Center for Applied Computer Graphics and Visual Computing Research) as technology partner.
Unfortunately, globally the number of people with disabilities is increasing. Advanced societies are working to avoid isolation, aware that good communication will ultimately result in a social improvement.
Irisbond aims to help people affected by different limitations of mobility and accessibility to communicate, enabling them to connect with society and even, in some cases, returning to the workplace. In this way, the project focuses on the world of disability, offering an intuitive and technologically advanced at a very competitive price. People with mobility and even language limitations, by moving their eyes, can write emails, surf the internet or watch videos among other activities.
What is exactly Irisbond?
It is a control system of the computer with eyes, which runs reliably, easily and accurately. In addition the solution offers an online platform that allows us to perform the installation and maintenance remotely.
Its operation is based on the flashes that generates the user's cornea. By infrared rays, the flashes are captured by a video camera, which information is transferred to the application. Via computer algorithms, eye movements are transformed into Cartesian coordinates of the mouse.