With 5G, a future with endless opportunities open for business and society: it is capable of creating social value in eleven of the seventeen United Nations Sustainable Development Goals.
5G will help us transform health, transport, education and more, with an exponential positive impact, if we deliver the most of its potential with other technologies such as the Internet of Things, Artificial Intelligence or Big Data.
According to the report "The Impact of 5G: Creating value across industries and society" released by World Economic Forum and PwC, the technology enables the speed and smart connectivity necessary to generate approximately $3.6 trillion in revenue and 22.3 million jobs by 2035 worldwide in the technology value chain alone. This, taken across all sectors of activity, brings us to the astronomical figure of $13.2 trillion. Industry will become the largest creator of wealth.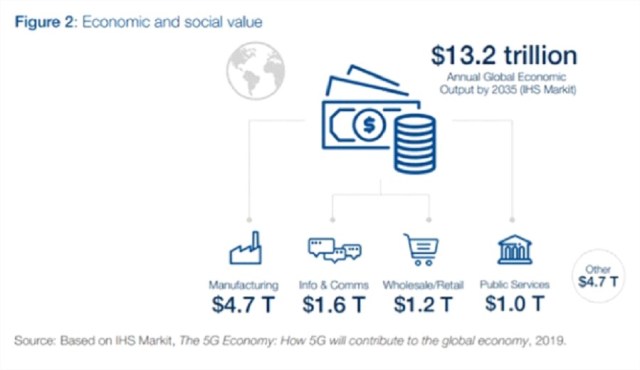 With social challenges in mind, the use cases for contributing to people's well-being are very promising. Thus, we find healthcare improvement solutions, with a particular leap forward in telemedicine and remote surgery. We are starting to get a glimpse of it today, for example, with surgeries being performed in Malaga, assisted remotely from Japan thanks to Telefónica's technology. In fact, one of the first services to be marketed by Telefónica in 5G is 5G Remote Assistance Solutions, which is particularly suitable for healthcare, as well as for industry, logistics and the utilities sector.
Another example is the tele-ophthalmology service Ocuexplorer 5G, a tool to assist ophthalmologists in the prevention and diagnosis of eye diseases for the entire population, both rural and urban – or with the 5G virtual reality rehabilitation to help speed up patient recovery.
Security can also be enhanced through 5G. We have seen this with the Spot robot, a mechanical dog that has demonstrated its real-time surveillance capabilities in Vigo (Spain) thanks to a collaboration between Telefónica and the University. It was the first time Europe has seen an example of 5G Stand Alone with network slicing capabilities, the world's most advanced ultra-broadband technology. The same use case could be applied to support the police as it can cover more ground than people in the same amount of time and the machine can carry out autonomous missions in dangerous locations such as high temperatures or contaminated areas.
It will also help us to have a more sustainable and safer mobility. We have seen it, for example, in the Cereixal tunnel (Lugo), the first in Spain connected to vehicles thanks to 5G, and in a real-time race in Germany, where O2 has controlled vehicles through the 5G network. To make further strides in this field, we are also working in the R&D laboratory in Malaga (Spain), with Dekra, Seat and Ericsson.
Education will also benefit greatly from 5G, for example, thanks to immersive technologies, which help to create a much more personalised and detailed educational experience to almost "touch" the subject being taught. 5G, virtual reality and edge computing allow both teacher and student to interact in real time with the content and with each other without either of them physically being in a real classroom.
Benefits for the planet
Ultra-fast 5G connectivity and digital solutions also have a very positive impact on the environment, as they will reduce carbon emissions in several sectors, with industry, transport, utilities and household energy benefiting the most. A 5G network brings exponential benefits to the Smart Eco services Telefónica already offers: Based on a fully renewable, low-emission network, these cloud, IoT, big data and artificial intelligence solutions reduce energy and water consumption and CO2 emissions and promote the circular economy.
Where is there greater potential? According to the O2 report "A Greener Connected Future" published in 2020, with reliable and ultra-fast communication between machines, next-generation smart meters will help households monitor and reduce their energy consumption.
Travel, already greatly reduced by the pandemic, will again not be as necessary as 5G will enable virtual reality meetings and offer high-speed data processing capabilities. And in factories, increased automation will drive efficiency and greater overall productivity. 5G will facilitate higher flexibility, lower costs and shorter delivery times for factory production.
Improvements will also extend to transport and logistics: in the UK, we recently launched the first commercial 5G satellite lab to test connected and autonomous vehicles the first commercial 5G satellite laboratory for testing connected and autonomous vehicles as part of the Darwin Project, supported by the European Space Agency. We want to revolutionise freight deliveries using 5G and satellite communications, which allows us to monitor local biodiversity and calculate emissions savings by taking different routes based on carbon sequestration from nearby trees.
As part of its testing during COP26, O2 has converted two electric cars into connected autonomous vehicles (CAVs) and equipped them with sensors to enable autonomous driving and remote control at low speeds.
All these use cases have us convinced that 5G can help us better address critical societal and environmental challenges for humanity.