Telefónica Public Policy & Telefónica España Regulatory teams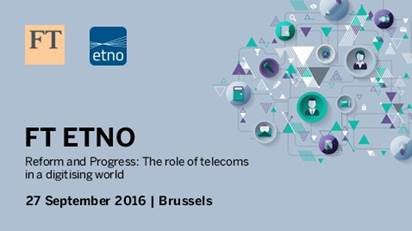 Telefónica is an active player in the way of building up Europe's digital economy. As every year, we participate in FT-ETNO Summit because we do believe that sharing ideas and goals among heterogeneous players is critical to advance in the path of technological and mindset changes.
The Digital Agenda for Europe was an important point of departure for all of us. However, since its birth to now the paradigm shift of ICT is clear. Today ICTs have a human face, i.e. it is the main driver of life-improving services. The digitalization of European societies, businesses and organizations poses new questions and answers.
In 2016, Europe has started a historic reform of its telecoms and digital laws. Therefore, we consider indispensable to discuss in depth this reform and to reach agreements on the future of digital policies within the EU without losing the global perspective.
In the upcoming FT-ETNO Summit (Tuesday 27th of September) we will debate on what needs to be done in order to encourage investment, enable innovation and foster consumer confidence.
Among the experts, the KEYNOTE SPEAKERS will include:
Andrus Ansip, Vice-President for the Digital Single Market

Jennifer Blanke, Chief Economist World Economic Forum

Günther Oettinger, Commissioner for Digital Economy and Society

Derek Aberle, President of Qualcomm
Click here to see the agenda and full list of speakers.