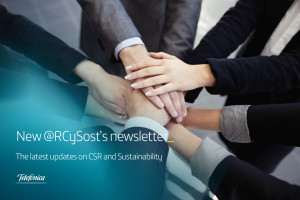 We are glad to inform you that from this week we launch a fortnightly newsletter in English where you can find different articles, events and interesting reports about topics like CSR, social innovation, big data, climate change or entrepreneurship, among others. We hope all the topics are for your interest.
NEW SUSTAINABILITY WEBSITE OF TELEFÓNICA
The digital environment has opened up a world of possibilities to teach and learn, more in tune with the new habits of students who are now permanently connected.
This, together with the need to tackle academic failure and to improve employability and the efficiency of the education system, require the modernization of the model. ICTs are at the heart of this transformation and Telefónica is a strategic ally to advance in the process of change in education.
Know the commitments and positioning of Telefónica in this field: http://ow.ly/FJr44
EVENTS
Digital learning round table – @DigitalAgendaEU (16th of December, Luxembourg) http://ow.ly/FAF6F
Workshop on Internet of Things. A deeper dive – @DigitalAgendaEU (16th of December, Brussels) http://ow.ly/FAFkP
4th CSR & Sustainability Meetup in Dubai: Employees Engagement: Improve Productivity, Performance and Culture – @Meetup (16th of December, Dubai) http://ow.ly/FIzsh
Improving Integrated Reporting: New Methods and Technology – @Workiva (16th of December, Webinar) http://ow.ly/FIB7u
Horizon 2020 Calls Info Day: Low Power Computing, Internet of Things and platforms for smart objects, ICT in Factories of the Future – @DigitalAgendaEU (17th of December, Brussels) http://ow.ly/FTdIx
UK Digital Summit on Policy and Business for Smart Society – @DigiCatapult (17th of December, London) http://ow.ly/FTeQF
ARTICLES
Big Data for Social Good: Opportunities and Challenges – @RcySost http://ow.ly/FIMVa
Be Lean: How the big corporates can learn from startups – @telefonicaid http://ow.ly/FJuGC
Telefónica joins child protection efforts through an agreement between GSMA and Child Helpline International – @RcySost http://ow.ly/FJoTG
What to Expect at the UN Climate Talks in Peru – @EdwardJCameron & @bsrnews http://ow.ly/FIHJ6
Meet the winners of the Energy Efficiency Challenge! – @RcySost http://ow.ly/FJpdZ
Health data: the key to disease prevention or a privacy intrusion? @guardian http://ow.ly/FII8J
United Nations debates new goals for making world a better place – @smh http://ow.ly/FILXF
Disruptive Leadership: The Key To Engaged Workers – @forbes http://ow.ly/FIMxJ
Big Data + Smart Tech: An Elixir for a Sustainable Future? – @SustainBrands http://ow.ly/FIGSq
REPORTS
We the Peoples: Celebrating 7 Million Voices – @myworld2015 http://ow.ly/FTkFW
Joint ventures on the rise – @McKinsey http://ow.ly/F8n70
State of Corporate Citizenship 2014 – @BCCCC http://ow.ly/FILbu
2014 global risk survey (Reputation@Risk) – @deloitte http://ow.ly/EobX0
BSR Report 2013-14 | Transparency & Transformation – @BSRnews http://ow.ly/Eocub