Elena Casado & Laura Cabo, Responsabilidad Corporativa de Telefónica S.A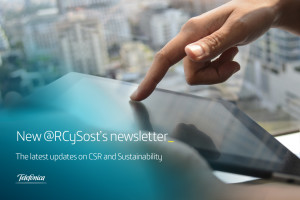 Almost 5 billion devices will be connected in 2015, reaching 25 billion in 2020. Saving energy, reducing traffic jams and improving the quality of health care are just some of the benefits that can be gained by users through the IoT.
The European Commission has taken advantage of the Net Features 2015 International Congress to launch an Alliance for Internet of Things Innovation (AIOTI), of which Telefónica is a part http://ow.ly/LwLVx
NEW SUSTAINABILITY WEBSITE OF TELEFÓNICA
Children and adolescents are enthusiastic users of new technologies, key tools in education, relations, leisure and, in short, the development of young people in an increasingly digital world.
Read the compromises and positioning of Telefónica in this area: http://ow.ly/LwNon
ARTICLES
Connect Inventors with the Right Problems – @HarvardBiz http://ow.ly/LwHDC
Why 2015 Matters So Much for Corporate Sustainability Goals – @cheatsheet http://ow.ly/LeGDP
Are low-cost solutions the key to fixing global poverty? – @guardian http://ow.ly/LwFe9 Spacehus sets a new standard for energy efficient homes – @guardian http://ow.ly/LeK9N
Supply Chain Sustainability Needs a Fresh Viewpoint – @triplepundit http://ow.ly/LwMKt
5 Ws (+ 1 H): Successful Sustainability Reporting this Spring – @ELDaily http://ow.ly/LwN2l
Leadership Lessons from Great Family Businesses – @HarvardBiz http://ow.ly/LeIUg
Net Futures 2015 Highlights Full Summary [VIDEO] – @DigitalAgendaEU http://ow.ly/LeFk
REPORTS
Tomorrow's Cities: creating optimal environments for citizens – @TheEIU http://ow.ly/LwEI4
TRUSTe Kids Privacy Index – @TRUSTe http://ow.ly/LwHnH
Privacy and Security in a Connected Life: A Study of US, European and Japanese Consumers – @PonemonPrivacy http://ow.ly/LwHIh
Report on Cybersecurity and Critical Infrastructure in the Americas – @TrendMicro & @OAS_official http://ow.ly/LwIYT
EvENTS
Arab Future Cities Summit 2015: "Smart Solutions for Sustainable Cities" (#AFCS2015) – @expotradeglobal (Qatar, 13 – 14 April) http://ow.ly/KXJ1R
Bloomberg Future of Energy Summit 2015 – @BloombergNEF (New York, 13 – 15 April) http://ow.ly/KXUdR
IV Smart Energy Congress & Expo – @enerTIC_es (Madrid, 14 – 15 April) http://ow.ly/KXWI3
Big Donor Summit – @thirdsectorconf (London, 15th April) http://ow.ly/KXV7J
The Global Summit 2015 – @WTTC (Madrid, 15 – 16 April) http://ow.ly/LeGFx
International Corporate Citizenship Conference (#BCConf15) – @BCCCC (Austin, Texas, 19 – 21 April) http://ow.ly/KXVzp
Smart City Startups 2015 Festival – @CityStartups (Miami, 23th April) http://ow.ly/KXIxP
International Girls in ICT Day (#GirlsinICT) – @ITU (Worldwide event, 23th April) http://ow.ly/KXRNd
Corporate Leaders and Indigenous Peoples' Rights: Building a Community of Practice – @eventbrite (New York, 23th April) http://ow.ly/LeHxu