Telefónica Public Policy & Telefónica España Regulatory teams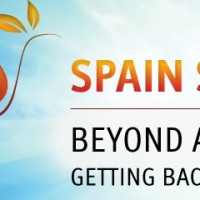 The Economist organized last week in Madrid a summit to figure out how Spain can get back to growth beyond austerity. The event, supported by the Spanish Chamber of Commerce in BELUX, gathered key Spanish policymakers and business leaders as well as influential global commentators to debate around Spain's economic prospects, focusing on the reforms needed to create the conditions for growth.
One of the panels of the summit was devoted to discuss how to boost competitiveness and productivity in a global digital economy. For Robert C. Walcott, Co-Founder and Executive Director of Kellog Innovation Network, the global economy is changing. Once Spain admits this fact, it needs to figure out how to involve people in the new global digital economy. Walcott believes that, in order to boost competitiveness and productivity in the new global economy, Spain needs to increase the number of entrepreneurs. But… how to become an entrepreneur? Walcott gives the following instructions:
An entrepreneur must create networks, i.e. join and learn from entrepreneurs that have already succeeded.
An entrepreneur must create ecosystems.
An entrepreneur must "open the raw materials", such as open data.
An entrepreneur must change the general concept of failure: failure is learning how not to do things.
An entrepreneur must manage the cost of failure: the cost of an eventual failure may be compared with the benefit of an eventual success.
For Marta Martinez Alonso, IBM Country General Manager for Spain, Portugal, Greece and Israel, the key to boost the Spanish competitiveness and productivity in a global digital economy is technology. In particular, she believes that technology is the most important driver in business models for the next 5 years. Martinez Alonso backed up her point saying that technology allows to doing more with less –making the transformation process of businesses more efficient-, eases the expansion of business models and allows new collaboration models within companies and with stakeholders, e.g. social networks. In addition, Martinez Alonso pointed the areas in which technology can be of great help to big companies as well as to medium and small enterprises:
Big data
Social networks – McKinsey has reported that companies that use social networks increase by 20% their productivity and customer satisfaction
Mobility
Cloud computing
Last but not least, Juan Béjar, Executive Vice Chairman and CEO of FCC, gave his view on how the Spanish private sector can be competitive again. Béjar pointed the following musts:
Companies must be continuously able to adapt to change
The public sector must recover the credit flow and finish its reform
The public sector must unify the fragmented internal market and finish this way with the difficulties of working under 17 different internal markets