Irati Rubio Martín – Editor at Negocio Responsable
As is traditional in the Telefónica Energy and Climate Change Workshop  -and obviously in this ninth edition– the company's best Energy & Environmental managers, and best energy efficiency and renewable energy projects, have been awarded. The Energy Efficiency Challenge (EEC) Awards seek to recognise the work of our colleagues and technological partners that have contributed to reaching the goals of Telefónica in this area during the year. Congratulations to all the winners!
Best Technological Innovation Project:

Johnson Controls with Device Server Cloud for SUSI project.
Creation of a specific solution for Telefónica that makes it possible to monitor infrastructure equipment in real time using Device Server Cloud. Thanks to this solution, we can manage equipment and energy consumptions from a greater number of sites by optimising their functioning and improving the operation.
Environmental Manager: Noemí Grandío from Telefónica Spain.
Recognition for her 20 years of service, promoting the environmental commitment of the company from the Quality and Transformation Directorate, and her capacity to integrate the different areas of the company in this challenge: from Operations to Compliance, passing through areas with a greater focus on the client such as the Marketing and commercial departments. This work has made it possible for the environment to be increasingly strategic in Telefónica Spain.
Energy Manager: Silvana Delgado from Telefónica Argentina.
Since her incorporation in 2017, she has demonstrated a high commitment to the objectives of energy efficiency, in addition to having a very fast learning curve. This has made a significant boost of new initiatives possible, carrying out a detailed and thorough control of each of the projects, and demonstrating high quality in her work and human quality.
Best Energy Efficiency Project: Telefónica Colombia and Vertiv with the CELTA energy efficiency project.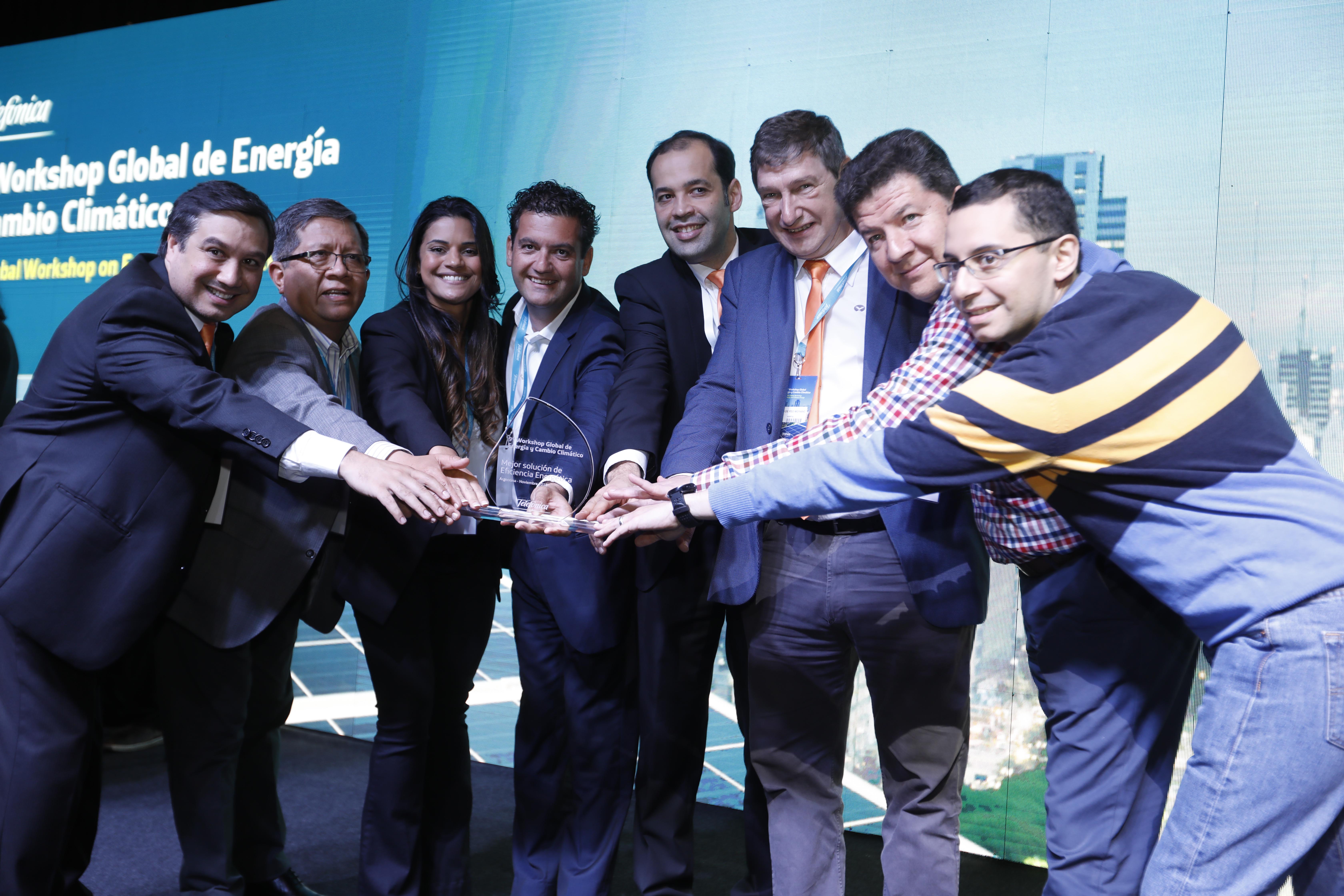 Integral cooling solution that optimises energy consumption thanks to the modernisation of air conditioning equipment, its optimised configuration, and the use of free cooling (cooling with exterior air). In addition, it replaces the existing lighting with LED technology.
Best Self-Generation Renewable Energy Project: Telefónica Central America with the photovoltaic self-generation project in the building in Managua (Nicaragua).
More than 360 solar panels provide us with an average of 350 KWh every day of 100% renewable energy. It is the first Telefónica switchboard that is partially powered by renewable energy, although we already have more than 4,000 renewable base stations:  https://www.youtube.com/watch?v=Rw5oPdakOrA&feature=youtu.be
Best Renewable Energy Purchase Project: Telefónica Mexico with the Low Voltage PPA (agreement for the purchase of energy for more than 20 years).
Implementation of more than 5,000 Telefónica Mexico network load points provided by a photovoltaic plant with a capacity of 140 GWh per year, thus transforming 45% of the renewable energy consumption. This project will reduce 52,000 tCO2 per year and more than 700,000 tCO2 in five years, the equivalent of the consumption of more than 104,000 homes in one year: https://www.youtube.com/watch?v=l3-_fKdGyKo
Best Environmental Project:

Telefónica Brazil with the I-REC Energy Certificates Project
I-REC is a tool for documenting electricity from renewable energy sources. Thanks to the purchase of renewable energy in the free market and distributed generation, Telefónica Brazil is already 100% renewable: https://player.vimeo.com/video/303047361
Partner of the Year: Desigenia, the first company to sign a contract under the new ESaaS (Energy Storage as a Service) model.
Desigenia has contributed an industrialised solution of hybrid solar generation for isolated areas.
Increasingly closer to our objectives
At Telefónica we're working hard to reach three major goals: reducing our global emissions by 50% by 2030, increasing energy efficiency (between 2015 and 2018 we have been able to reduce energy intensity from traffic by more than 65%), and that the company's electricity consumption comes from 100% renewable sources for that same year.
At the end of 2017, 47% of the energy used by the group at a global level was already renewable. The goal was to reach 50% by 2020, something which was already practically achieved this year. That level is already even at 100% in some countries such as Germany, Brazil, Spain, and the United Kingdom.
This is our challenge and we're going for it!