Barcelona, from 27 February to 1 March
An encounter with the different players in the sector about big data, a battle of the startups judged by the PreSeries machine learning algorithm, pitches from benchmark startups, and a panel discussion on open innovation with other telecom companies complete the presence of Telefonica Open Future_ at the event.
Madrid, 9 February 2017.- Telefónica Open Future_ is to participate in a varied schedule of activities at the forthcoming edition of 4YFN Barcelona. The goal is to demonstrate the variety of origins, professional profiles and technological solutions that make up its ecosystem. The next edition of the event, to be held from 27 February to 1 March as part of the Mobile World Congress, is to include direct involvement in panels on the main stage and/or in activities at its stand by startups from European countries (such as Germany, Spain and the UK), the American continent (e.g. Mexico) and Asia (through startups from China and Korea).
The main stage at 4YFN will accommodate two panels which will reflect from different angles the progress and current situation of digital entrepreneurship in the world.
The first of these two encounters will be held on Tuesday, 28 February, at 4 p.m. (16:00). It will kick off with a 30-minute debate on how open innovation contributes to boosting the development of big data at Telefónica. Yuval Almog, founder and CEO of the Coral Group, a US venture capital firm that backs scalable, disruptive companies in innovating within the market, Mariano de Beer, CCDO at Telefónica, and a successful international entrepreneur will address this issue from their perspectives.
The second part of the proceedings will involve startups from the Telefónica Open Future_ ecosystem, consisting of Carto, LogTrust and Inbenta, three internationally successful Spanish cases which will start off by pitching their projects to the audience; audience members will also have the chance to choose the best presentation by using the voting tool designed by Wi5 (UK). Following this, PreSeries (Spain) will hold a battle of Artificial Intelligence startups, involving the following competitors: Descifra (Mexico), Pixoneye and Action Al (both from the UK), People.io (Germany), and 4D Replay (Korea). The battle will be judged by a machine learning algorithm, without any human intervention.
The proceedings will end with the presence of the winning startups from the First TOF_ Global Race, a challenge set for innovative projects and technological startups from around the world, and the announcement of an internationally interesting competition for entrepreneurs.
The second panel discussion will take place on Wednesday, 1 March, at midday (12:00), with the title "Alianza Go Ignite: accelerate your startup with four leading Telcos" It will present the ideas of different telecoms companies about how they understand open innovation and how this is redefining the traditional innovation model. Participants include Edgar Hardless, CEO of Singtel Innov8, Axel Menneking, Managing Director of hum:raum, Bertrand Rojat, head of the startups ecosystem at Orange, and Ana Segurado, Global Director of Telefonica Open Future. This section will end with the announcement of a new international competition for entrepreneurs and startups.
Stand 17 at 4YFN, an activity hot spot
The Telefónica Open Future_ stand (stand 17) will be a hot spot for activity over the three days of 4YFN, as it will host startups from countries such as Korea, resulting from the alliance with Korean Telecom (Analogue Plus, Genius Factory, XLab, MediSolution, DoDotDo and Irisys), and China, through its aliance with China Unicom (VVFly).
However, in addition, it will constantly be offering demos that will provide information of interest to entrepreneurs and startups that want to know more about entrepreneurship and innovation, as well as to answer any queries. For this purpose, Odilo, specialising in digital content and in library and archive solutions, will make available to visitors its extensive virtual library, from which they can extract information of interest to them based on their needs; Preseries will offer entrepreneurs an assessment of their projects based on artificial intelligence; Saffe, the mobile-based payment app, will demonstrate how easy the process of paying for products from a vending machine is; and the screens from Visual Tagging will enable spectators to keep an eye on the stir caused by the events from Telefónica Open Future_ at 4YFN on social media. In addition, through an app developed by Wi5 specifically for this international event, it will be possible to follow in real time all the activity associated with Telefónica Open Future_, the panel discussions it is participating in and the startups from its ecosystem. DelSuper, the official supplier of 4YFN, will also be present at the stand, demonstrating the usefulness of its digital solution, which does the user's shopping at the user's usual outlet and delivers it in an hour.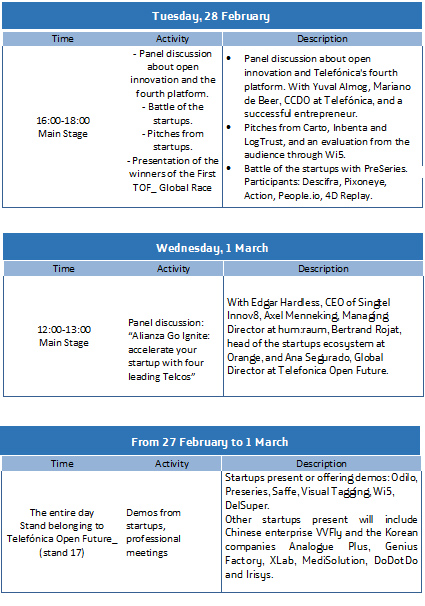 Telefónica Open Future_
Telefónica Open Future_ is a global platform designed to connect entrepreneurs, startups, investors and public and private partners around the world to capture innovation and business opportunities. Its goal is to support talent at all stages of growth through a comprehensive model for acceleration that is designed to connect talent with organisations, investors and companies. The programme incorporates all the Telefónica Group's open innovation, entrepreneurship and investment initiatives (Think Big, Talentum Startups, crowdworking, Wayra, the Amérigo investment funds, the Telefónica Ventures corporate funds) through a global network that is open to participation by external partners that wish to develop their own entrepreneurial and investment strategies and connect them with large companies. To date, more than 50,000 proposals have been analysed, over 690 startups have received investment and in excess of 1,500 have been accelerated. Telefónica Open Future_ is present in 17 countries and a total of 445 million euros has been committed to investment by Telefónica and its partners.
Further information: https://www.openfuture.org
Further information:
Communications Department at Telefónica Open Future_:
Marisa Orellana: 617 86 30 30 / marialuisa.orellanasanz.ext@telefonica.com
Miguel Ángel García: 699 37 18 07 / miguelangel.garciasanchez.ext@telefonica.com