The president of the Inter-American Development Bank (IDB), Mauricio Claver-Carone, hosted the first Private Sector Partners Roundtable, which brought together leading company representatives to discuss the historic challenges and unique opportunities for boosting growth and investment in Latin America and the Caribbean. Indeed, the region has been hit harder by the pandemic than any other and this situation deserves a strong response.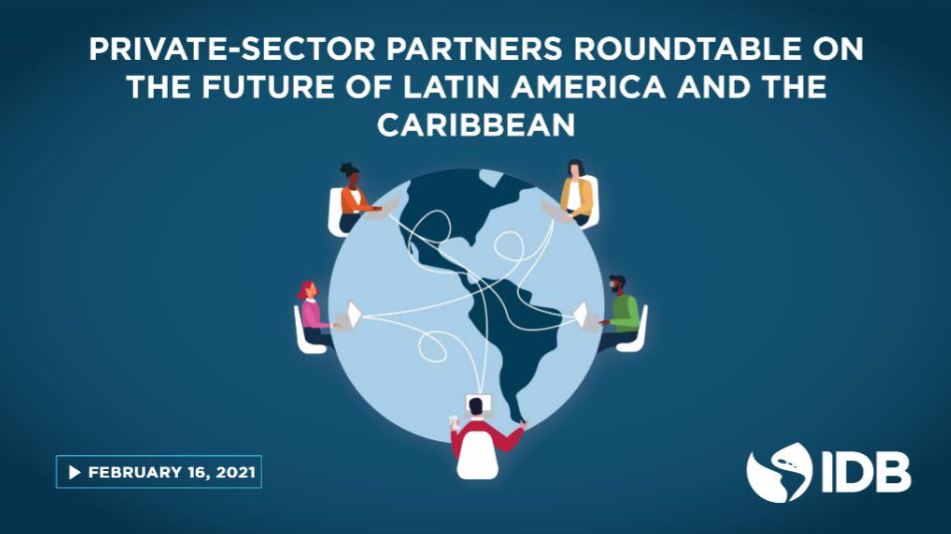 The Roundtable – a coalition of 40 global corporate executives – seeks to inspire public-private collaboration to drive a post-pandemic recovery in Latin America and the Caribbean, with a focus on the areas of women's empowerment, digitisation and strengthening value chains, which have been identified as critical opportunities to stimulate growth in the region.
President Claver-Carone presented the IDB's vision and priorities, which focus on three key elements: the economic empowerment for women, digitalization of economies and administrations, and moving value chains to the region. Business representatives signed a Partnership Declaration and pledged to work with the IDB to mobilize resources in these three critical areas.
Telefónica has joined this initiative because we want to join the efforts of this agreement. We are a digital ally for the region, for its citizens and businesses. An ally that can help economies to recover.
Latin America faces social and economic challenges and the most worrying of them all has to do with citizen distrust and the breach of legal certainty that we witness in some countries. Both are very much in the roots of the recent social unrest in several of the region´s countries. The region must face these challenges and fix them in a world that is changing. One of the main drivers of this global change is digitalization. We need a deal to manage the digital transition and therefore we have been advocating for a new Digital Deal, a document that contains specific proposals to build back better our societies and economies.
We need to make our societies and economies more sustainable through digitalization, transforming businesses and public administrations for the better.
We need to tackle inequalities through education and digital skills
We need to build inclusive and sustainable connectivity, so nobody is left behind.
To achieve the goal of extending digitalization in the region we need new Public Polices. The IDB can be key in identifying and promoting the modernization that is needed in regulatory frameworks, in aspects such as a reasonable spectrum pricing, or measures to facilitate network deployments.
"When I look at Latin America and the Caribbean, I see a region brimming with opportunities – but it is time to turn rhetoric into action," said President Claver-Carone. "This gathering with leaders from 40 of the world's most innovative global and regional companies, and the signing of this historic Partnership Declaration, enshrines our shared vision and an action plan for future investment, growth and prosperity in our countries. I look forward to working with every one of these companies and incorporating them into our workstream to help generate job creation and sustainable economic development."
This meeting was the start of an intensified effort to strengthen collaboration between the IDB and top private-sector companies to promote investment and create the type of jobs that will help the region's post-pandemic economy thrive. Telefónica is ready to engage with IDB and work along with this new alliance in the years to come. The role of this initiative will be critical, guiding the path for the economic recovery of the region. IDB's analysis is well focused: we need an unprecedented effort to recover from this crisis; and Telefónica is ready to play a pivotal role for the region as digital ally.