The European Union is taking a leading role, positioning itself as a key player in guiding companies in the transition towards a sustainable economy. To do so, it is working on the publication of various ESG (environmental, social and governance) regulations, such as the Corporate Sustainability Reporting Directive (CSRD), the taxonomy for sustainable activities, the Corporate Sustainability Due Diligence Directive and the Fit for 55 set of proposals aimed at reducing CO2 emissions.
The United States is also working to promote the development of ESG regulation, through proposals put forward by the Securities Exchange Commission (SEC) such as the Proposed Rules to Enhance and Standardize Climate-Related Disclosures for Investors and the Cybersecurity Risk Management, Strategy, Governance, and Incident Disclosure Proposal.
What are the main lines of action arising from new regulations?
As a result, companies such as Telefónica, which operate in a number of different markets, have begun to adapt their processes and operations to the new regulatory requirements. Fortunately, sustainability has been a strategic issue for us for years, which means we have a solid foundation upon which to align ourselves with the new requirements. The main lines of action are as follows:
Managing new obligations: regulatory changes have made sustainability management more complex, requiring experienced professionals who, among other things, are responsible for:

– Performing a double materiality analysis: a key tool for identifying and prioritising the most significant ESG issues for a given company in a particular sector and country, based on assessing risks, opportunities and impacts.
– Adapting ESG reporting to the new requirements: this involves developing, calculating, consolidating and disseminating new indicators, such as those that combine financial and sustainability sources that seek to be a reference when making investment decisions. One example of this would be those concerning the European Union's taxonomy for sustainable activities.
– Enhancing sustainability throughout the activity chain: this involves extending corporate responsibility beyond the company's own operations and therefore entails assessing and monitoring the environmental and social impact of suppliers, subcontractors, investee companies, etc.
– Developing measures to curb climate change: ESG regulations, among other issues, seek to promote an emission-free economy and they encourage companies to analyse, quantify, manage and report on their climate impacts.
– Ensuring privacy and security of information in a constantly evolving digital environment.
Digitalisation and greater control over ESG information: as mentioned in the previous point, regulatory bodies are reviewing the ESG information that companies must report, establishing new indicators that must be disclosed, their corporate scope and the formats and deadlines to be complied with.

In addition to complying with reporting requirements, at Telefónica, we believe that we must strive to achieve a robust level of internal control that ensures the transparency, quality, integrity and accuracy of the information across the Group's different companies and for the various ESG issues.
To achieve all this, we are relying on a key ally: technological tools that allow us to automate and digitalise information management, reporting and control processes.
Fostering an ESG culture and adjusting the governance model: these are the two key drivers in making the above points a reality. If employees' beliefs, behaviours and decisions do not take ESG into account, it will not be possible to meet regulatory demands; as Peter Drucker said, "culture eats strategy for breakfast". To achieve this, we must enhance sustainability across the different areas, bodies and layers of the company.

To this end, measures ranging from the introduction of ESG targets in remuneration schemes, such as the one already in place at Telefónica, to the implementation of awareness-raising campaigns and the development and updating of corporate policies and training must be given due consideration.
How can regulators help to seize the opportunities presented by sustainability?
While new ESG regulations will present challenges in terms of implementation, they can also create opportunities in the long term. For this to happen, they would need to be designed so as to comply with certain aspects, such as:
Being focused on redirecting capital flows towards sustainable activities taking into account the characteristics of each country, sector and company size, as well as building on sound scientific analysis of how different companies, with very distinct backgrounds and businesses, can seize opportunities, mitigate risks and generate positive social and environmental impacts in the specific context in which they operate.
Being based on a holistic approach, which seeks to protect the environment and society as well as economic prosperity. In addition, each of the proposed regulations should consider the "cost-benefit", thereby avoiding imposing unattainable investments on companies.
Promoting cooperation between powers and governments with the aim of making sustainability requirements consistent globally.
Taking into consideration all layers of the business and stakeholders to ensure effectiveness and acceptance by all affected parties.
Being understandable and developing robust criteria and definitions so that they are easily applicable and ensure common criteria for all companies.
Being accompanied by educational initiatives and awareness-raising campaigns.
Presenting clear and staggered targets or milestones in the short, medium and long term, so that companies can secure the necessary resources to achieve them. The aims of ESG regulations can now continue to be further developed around issues such as the ones described at the following infographic: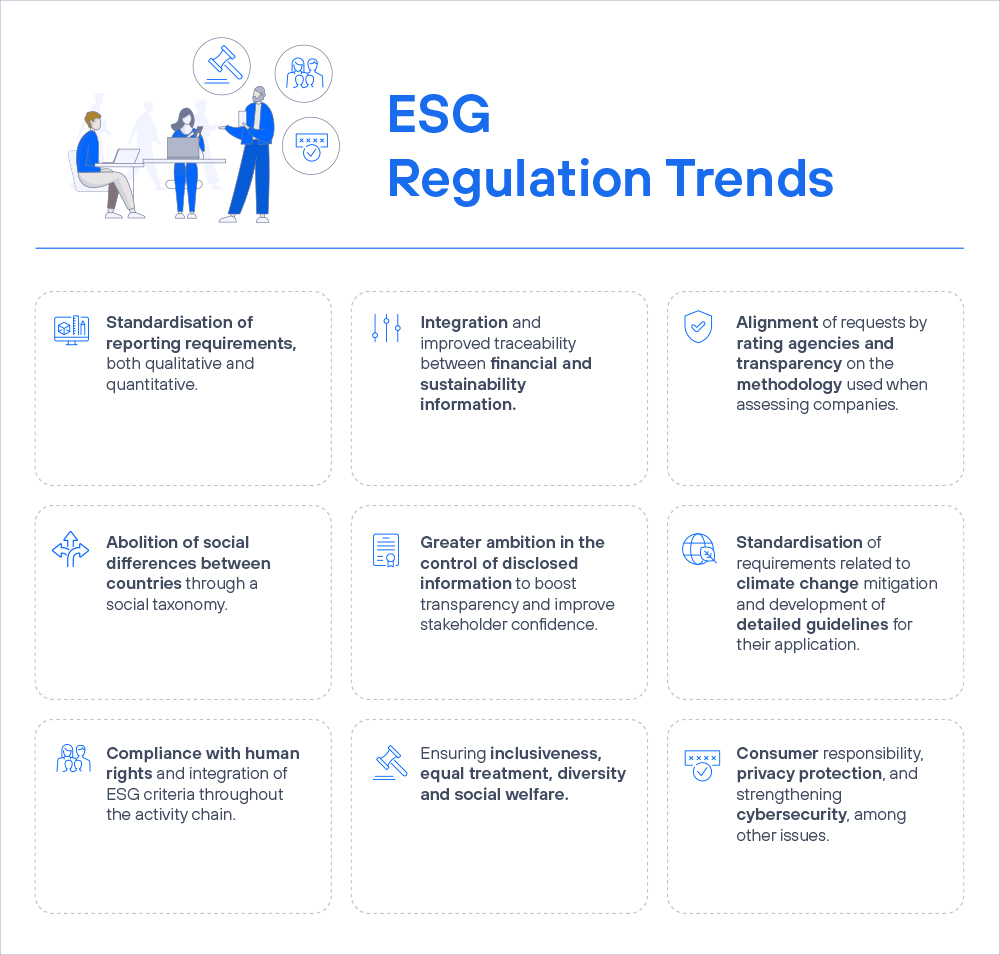 What are the opportunities that this new regulatory environment can provide?
If complied with, ESG regulation is more likely to be a lever to generate a positive impact on society and the environment. In other words, regulation could become the main driving force for harnessing the opportunities arising from sustainability, which can be summarised into three points:
Attracting capital: more and more investors are seeking not only financial returns but also positive social or environmental impacts through their investments. As a result, companies with strong ESG performance will be able to attract new, socially responsible investors. Moreover, good sustainability practices can reduce a company's cost of capital when it comes to financing.
Achieving operating cost savings and generating efficiencies: sustainability regulations promote the implementation of energy efficiency practices (e.g. by promoting the use of renewable energies), the circular economy (e.g. by promoting the reuse, recycling or recovery of waste generated) and the optimisation of consumption of other resources. Companies that achieve sustainable management will achieve cost reductions and efficiencies and will also have a positive impact on the planet.
Obtaining increased profits through greater stakeholder trust and access to new markets: companies will be able to set themselves apart, increase their brand value and reach new consumers and markets through the development of socially and environmentally responsible products and services. In addition, good ESG performance will lead to reputational improvements for companies, which can contribute to increased customer or investor loyalty. Furthermore, sustainable companies will focus on the well-being of their employees, which will result in attracting and retaining the best talent on the market.
In this regard, and as a leader in this area, at Telefónica we are stepping up our commitment to sustainability, as we firmly believe that today's efforts to align ourselves with the new regulations (possible additional costs, implementation of new processes, development of technologies, etc.) will help us to continue to increase our positive impact on society and the environment in the future.