Christoph Steck, director of Public Policy and Internet at Telefónica, participated in the presentation and writing -as a co-author- of the white paper "Sociedad Digital y Derechos". The event, which took place at the Ministry of economy, was opened by Nadia Calviño, Spanish Minister of Economy, together with other co-authors and secretary of state for digital progress, Francisco Polo.
During the journey, there was a discussion on "what for, why and how" we want to tackle digital transformation from a multidisciplinary approach. Specifically, the attention was directed to the impact of digitalization on individual rights, society's development and how it may impact the performance of our democracies.
The speed at which the changes related to digital transformation are happening is accelerating the obsolescence of the legal frameworks and existing politics. Internet's ubiquity together with the new productive paradigms of the Fourth Industrial Revolution are intensifying the limitations of the institutional mechanisms within national sovereignty. This situation leads to an urgent need for adapting and modernizing rights and legislative frameworks to new dimensions generated by technological innovation.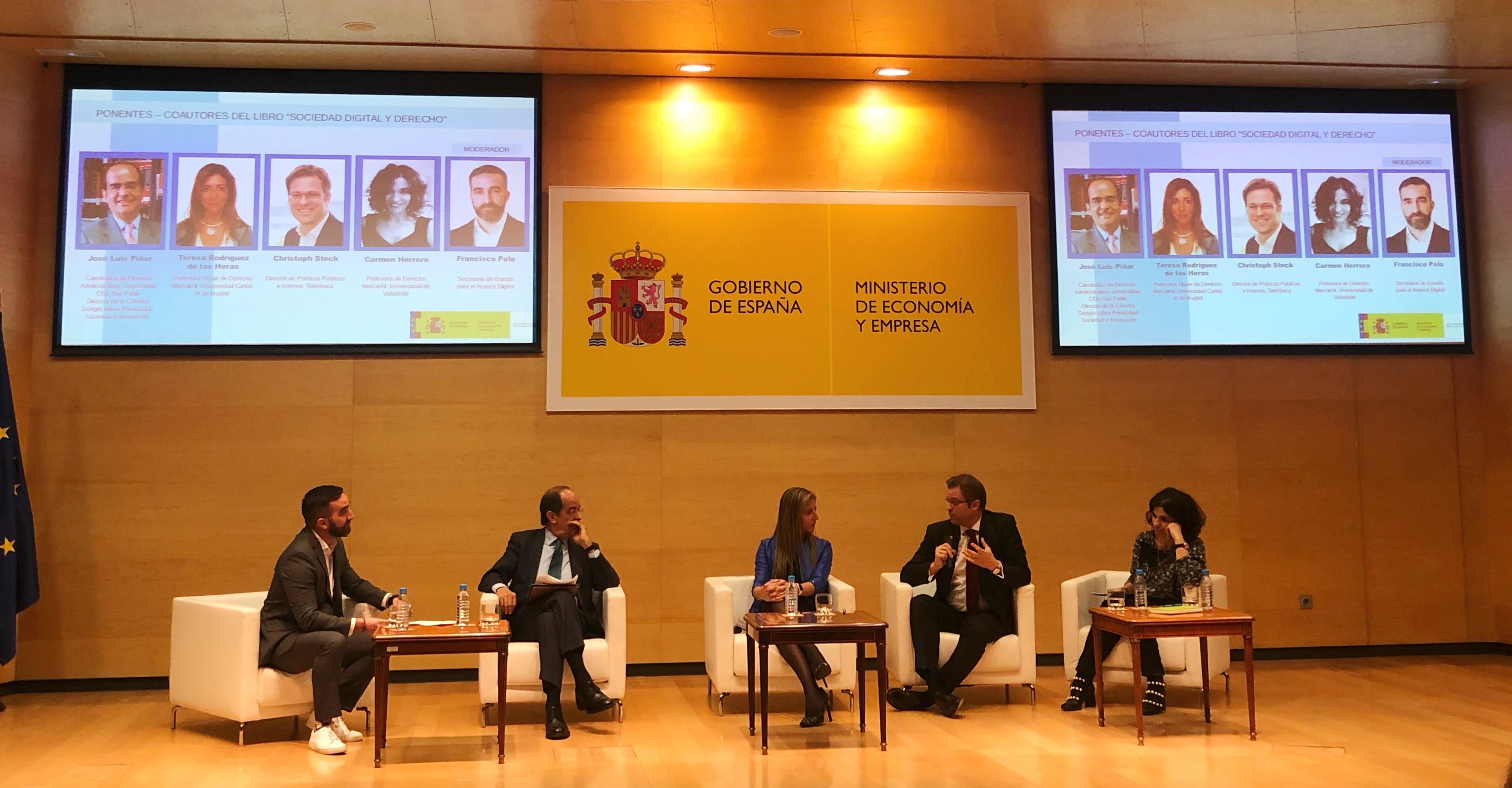 From left to right: Francisco Polo, Jose Luis Piñar, Teresa Rodríguez de las Heras, Christoph Steckand Carmen Herrero
Without loosing sight of this need for taking fast actions, principles such as equality, inclusion, accountability or transparency must be reinterpreted to undertake the necessary modernization of the rights. With the Manifesto for a New Digital Deal, Telefónica proposes a fundamental agreement regarding ethical principles and common values for the new digital world. It is our belief that a new social contract must be defined to holistically achieve sustainable digital societies, tackling effectively issues from employment, to taxes and rights.
"We defend a model in which human rights become a cornerstone in the development of policies and norms. A model that ensures that privacy is included in the array of civil rights. Overall, a model that ensures that the person is at the center of the changes brought by digitalization"
In order to achieve these objectives, it is the time to innovate to create open and inclusive frameworks and processes, in which the existing initiatives can lead to broad consensus. These new international instruments must bring different actors together, from the central role of the State, to the private sector, the tech community and civil society. We call for further cooperation between the private and public sector, to adopt different approaches that may answer to the complex challenges that we will face.