Telefónica Public Policy & Telefónica España Regulatory teams
Telefónica's chief data officer, Chema Alonso, told the audience at WIRED2016 about the quest to return location data to the people who created it.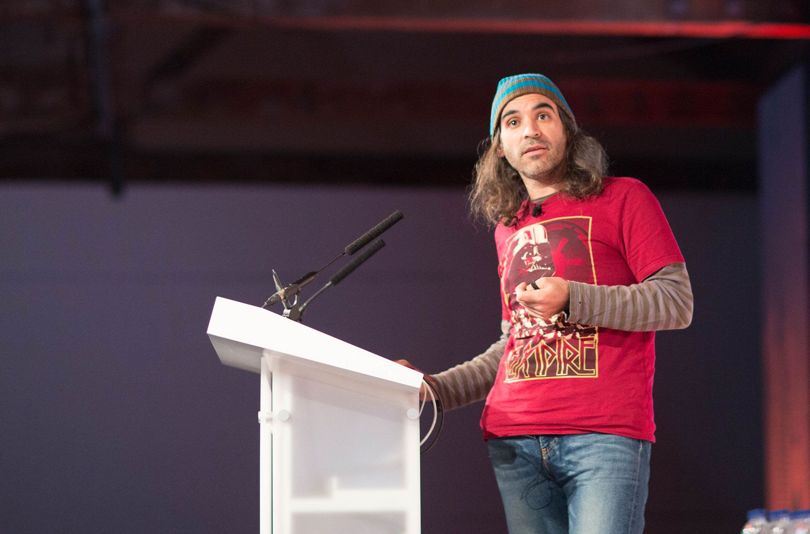 Every time we use a smartphone, we're adding to an intricate, online map about our location data. For one of the world's largest telecommunications providers, Telefónica, knowing where we are at all times allows it to provide a good mobile service.
"We can do good things with society with this [data]", said Chema Alonso, Telefónica's chief data officer and specialist in personal security. Using location services, Telefónica worked with the Mexican government to improve the quality of their emergency plans after the Guerrero–Oaxaca earthquake.
We rely on location data, provided through smartphones and GPS signals to navigate through everyday lives; to avoid traffic jams, find the next tube train and raise emergency alerts. Apple Maps now integrates a "Find my car" function, allowing iPhone owners to find where they parked their car using location data.
And all this valuable data adds up. Through Wi-Fi, Bluetooth and location services, companies can tell if you own or rent your house, if you're rich or poor, where you live, the people you associate with, and what "secret" interests you have.
"It's a scary thought," said Alonso. "But, it's also difficult to stop sharing your location."
The Google Play store for instance, Alonso said, has more than 504,000 apps that use location. Free services like Tinder and Facebook use our location data, "You pay with your privacy."
This privacy is being taken advantage of. Recent news of data breaches by hackers or cyberattacks have taken place at companies such as Yahoo and LinkedIn. When intricate data such as this gets into the wrong hands, it can have serious consequences in destroying trust and digital confidence.
And what is the point in this, except to scare the WIRED2016 audience in to never turning on their iPhones or Android phones ever again? "Location is great, but it also tells a lot about what you do. And sometimes we don't have enough tools to control the privacy," said Alonso.
This is where Telefónica comes in. It wants to empower its customers to take back control of their location data. "We believe the location data belongs to the person that generates the data, not to us," Alonso told the audience at WIRED2016.
Telefónica is thinking about and developing new rules for the person who owns the data, and looking into how to help its customers understand the importance of this data economy. It believes that if customers are in control of their data and the way it is used, this will lead to sustainable long-term relationships, based on trust.
By providing clear information about the vast amounts of location data people are creating every time they go online, Telefónica wants to raise awareness about the new data economy and empower users to make their own choices in the digital world.
One way it has done this is through the Telefónica Index on Digital Life. The Index ranks 34 countries worldwide on the quality of their digital ecosystem.
As part of the this report, Telefónica identified the UK as Europe's leader in digital life – followed by Germany and France. But for countries to fully unleash the potential of the digital economy, there needs to be fairer public policies and better cooperation between these public and private stakeholders.
The insights from the Telefónica's Index can provide a roadmap for global policymakers to better balance the socio-economic components of digital society. The UK can learn policy lessons from Australia, the country with the best privacy, security and digital literacy amongst all 34 countries included in the Index. This will ultimately improve the lives of individuals and fuel the global digital economy through investment.
Telefónica wants to be at the core of driving these changes, to allow people to access and enjoy the best that technology can offer.
This post has originally been published on the WIRED site.