Climate action is not happening at the speed or with the scale and scope needed to limit the global temperature rise to 1.5 degrees. This is what underpins the insistence of CDP, the global benchmark for corporate environmental ratings, that companies should recognise that our impact goes far beyond our operations.
"If a company wants to be in business in the future, they need to start embedding nature into the way that they buy and collaborating with suppliers to drive action in the supply chain," said Sonya Bhonsle, Global Head of Value Chains & Regional Director Corporations at CDP.
The organisation has identified the leading multinationals in this respect. Telefónica is one of the firms it considers a leader in terms of our progress.
Thus, after being acknowledged earlier this year as a global leader in corporate transparency and performance for our action against climate change, CDP has once again named us a Supplier Engagement Leader. To this end, it assessed the level of commitment of our suppliers based on our CDP reporting on issues such as governance, targets, the measurement of Scope 3 (value chain) emissions and the overall climate change performance of our suppliers.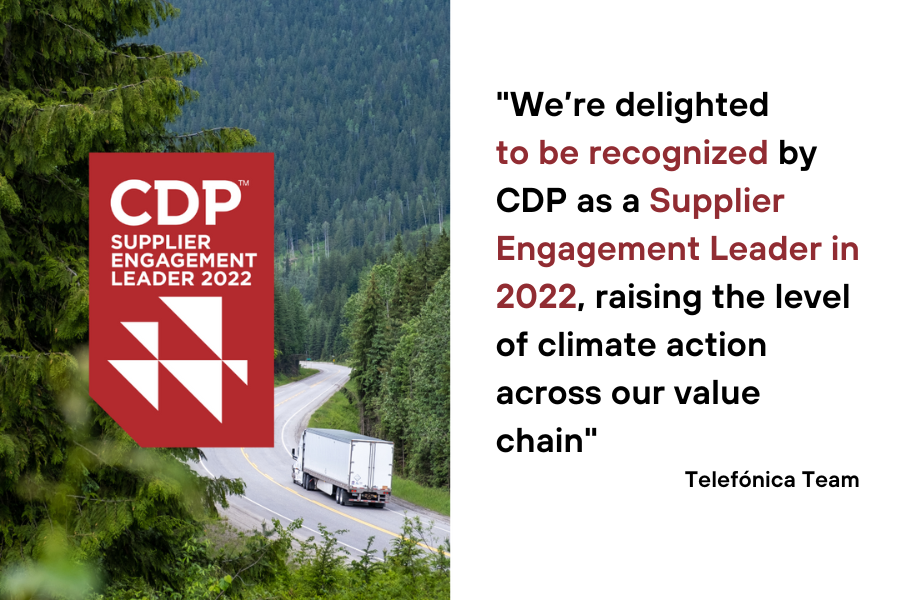 This means that we are successfully getting our suppliers to commit to reducing their carbon footprint. Thus, in the last year:
We have incorporated a new requirement in the procurement process, asking our key suppliers (which account for 90% of our supply chain emissions) to establish a decarbonisation plan for their activity in the short term, aligned with the Science Based Targets initiative (SBTi).
We have been working with our SMEs on reducing their emissions through the SME Climate Hub – where they find tools and other resources from the Hub to adopt the net zero commitment – and specific actions developed by the 1.5 Supply Chain Leaders initiative.
In the last six years, we have achieved a 32% reduction in our supply chain's CO2 emissions, the largest contributor to our Scope 3 emissions. We are thus on track to meet our target of reducing them by 56% by 2030 compared to 2016, a public commitment that has been validated by the SBTi.
Based on the progress made in 2022, CDP ranks us among the top 8% for our efforts to accelerate environmental engagement by suppliers.
Sustainable companies – and the planet – need sustainable supply chains. Let us join forces to make this challenge a reality.
#EverythingIsConnected