Sebastián Nieto Parra holds a PhD in Economics and is Head of Latin America and the Caribbean at the OECD (Organisation for Economic Co-operation and Development) Development Centre. Previously, he worked as a senior economist at the Santander Group for Latin America and served as an official of the Central Bank and the Ministry of Finance of Colombia. His extensive professional experience and educational specialisation have awakened in him a keen interest in international finance and political economy in emerging countries.
Among his occupations within the OECD, Sebastián stands out for being responsible for the LEO Report (Latin American Economic Outlook), whose 2020 edition was presented a few weeks ago with a focus on Digital Transformation for Building Back Better Latin America and the Caribbean. In this exclusive interview for Telefónica, he analyses the opportunities and challenges offered by digitalisation, the importance of collaboration with the private sector and the public policies needed to strengthen the region.
The economic outlook for Latin America is clearly marked by the pandemic we are experiencing. One of the key factors it has taught us is the urgency of ending the digital divide and, more specifically, the lack of connectivity. How can countries make the most of the digital transformation and what role do companies like Telefónica have in this area?
There are some key elements of the public policy agenda to make the most of digital transformation for businesses, workers and households. I would like to emphasise four key aspects.
First, in order to boost productivity, policies should aim to support the adoption of technological tools with comprehensive digital ecosystems, adequate infrastructure and appropriate digital skills. Second, digital divides need to be addressed to ensure that the benefits of digital transformation reach all, taking into account geographical, socio-economic, gender and age dimensions. Third, as digital technologies will bring opportunities and challenges to the labour market, a smooth transition must be ensured as new jobs are taken up and outdated jobs are left behind. Finally, appropriate digital skills need to be fostered at different stages of life.
There is one condition for the above-mentioned actions to be taken: these measures must be coordinated within the framework of national development strategies, linking them directly to the digital agendas.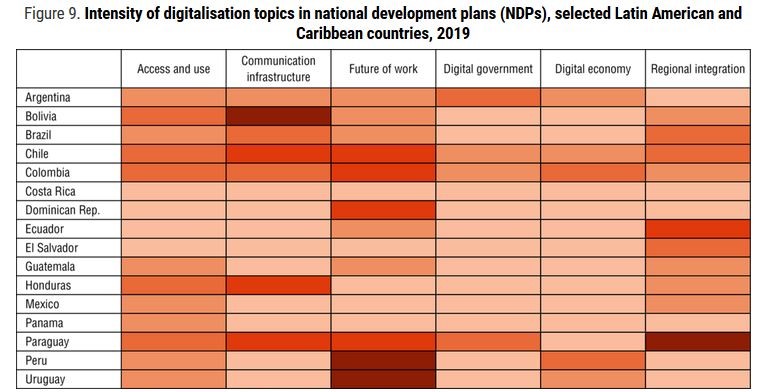 Source: Latin American Economic Outlook (2020)
The private sector plays a key role in such policy actions by participating in the design, through planning dialogue tables, and the implementation of the digital agenda. Indeed, the Covid-19 crisis makes the need to create and consolidate partnerships with the private sector more important than ever to efficiently respond to the needs of the productive sector and households in the digital field.
The thirteenth edition of our Latin American Economic Outlook (LEO 2020), jointly produced by the OECD Development Centre, ECLAC, CAF-Development Bank of Latin America and the European Commission, was precisely on Digital Transformation for Building Back Better and elaborates in detail on these points and in particular how cooperation with different actors, including the private sector, is crucial.
The adoption of fiscal measures and reforms is one of the most relevant initiatives for the recovery of economies during and after the pandemic. In this respect, what measures should be adopted in Latin America to be able to emerge stronger from this crisis?
This crisis has hit the region at a time when levels of trust and citizen satisfaction are particularly low. More than ever, as mentioned in our COVID-19 analysis on Latin America and the Caribbean: socio-economic consequences and policy priorities, this crisis underscores the need for coordination and coherence of all parties involved, the need to put in place more effective responses, and the need to build consensus among citizens around a sustainable deal.
Mobilising resources to build resilience and finance inclusive development must be a key element of such a deal. The crisis highlights the need for more financing for public services, social protection and competitiveness. Tax and expenditure systems need to be reformed and tax administration improved. In particular, fiscal policy is a key tool to improve inclusion through more progressive tax systems, to support formal employment through pro-entrepreneurship measures, and to respond to the necessary transition to a low-carbon economy.
Covid-19 has also shown us that the digitisation of public administrations and SMEs is another priority that the region must address without delay. How can we successfully address this challenge in Latin America?
New digital technologies can transform public administrations and make them more credible, efficient, inclusive and innovative. This can help to restore trust in governments by simplifying complex bureaucratic systems, providing more inclusive public services – such as e-health or e-learning – that reach the most disadvantaged sectors of society, making them more open and transparent, and allowing citizens to participate in decision-making processes.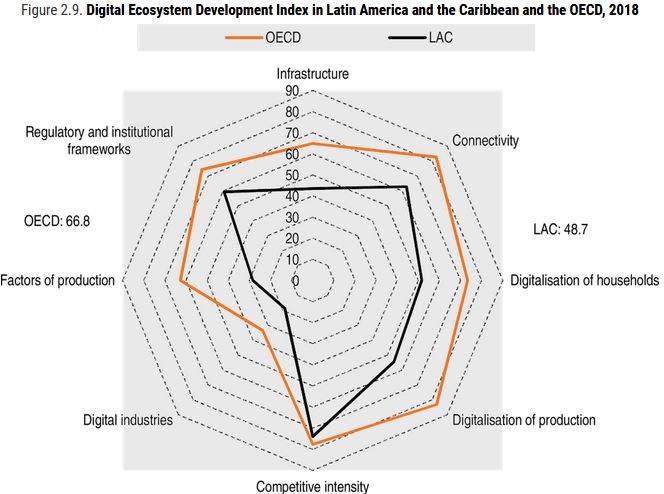 Source: Latin American Economic Outlook (2020)
With regard to SMEs, the region is characterised by a predominance of micro and small enterprises that have low productivity, are often disconnected from their markets and do not have the capacity to absorb the shock generated by the pandemic. Digital tools can help boost productivity and increase their competitiveness, especially for businesses that are lagging behind. For example, in some countries in the region, the gap between small and large firms that have their own website is more than 30 percentage points. Policies should therefore aim to support the adoption of technological tools to maximise the insertion of SMEs into the production fabric in order to generate greater competitiveness in local and regional value chains.