The Sustainable Development Goals (SDGs) are the most ambitious programme in history to address the major social and environmental challenges facing humanity.
The Internet and digital solutions are key to achieving more than half the SDG targets. At Telefónica we are taking up the baton and committing ourselves to the SDGs:
We help society prosper through our network deployment and innovation, which lead to growth opportunities.
We build a greener future by being environmentally responsible and helping our customers increase their sustainability.
We go beyond the essentials and commit ourselves to the diversity of our teams and the rights of our customers.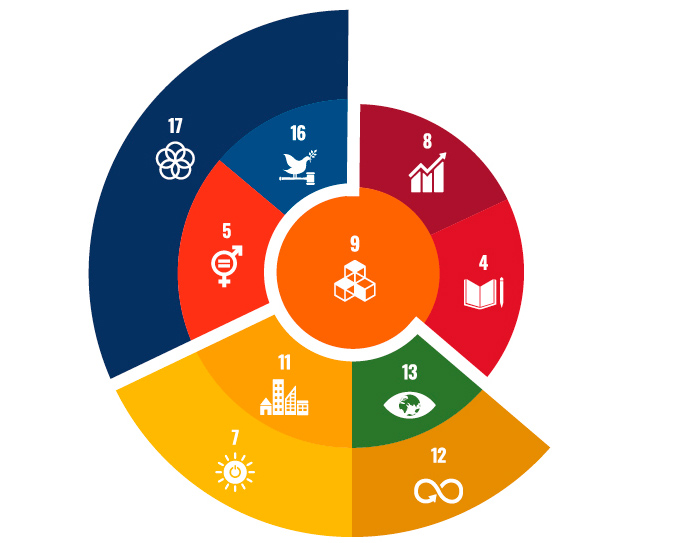 Our sustainable financing framework, verified by Sustainalytics, also helps us to continue supporting the SDGs with projects with social and environmental impact.
HELPING SOCIETY PROSPER
INDUSTRY, INNOVATION AND INFRASTRUCTURE
Provide faster and higher quality Internet access to individuals and businesses and power innovation.
GOAL 9.1
Develop quality infrastructure to support economic and social development.
Investment in infrastructure and applied services: +5.8 billion euros
Penetration of prepaid services: 49.4%
Contribution to Universal Service: 174 billion euros
GOAL 9.5
Enhance scientific research by promoting innovation.
Investment in R&D: 959 billion euros
Intellectual property rights: 440
GOAL 9.C
Increase access to ICT and strive to provide Internet for all.
People connected thanks to the Internet Para Todos (Internet For All) project: 1.8 million people
UBB – Ultra Broad-band (building units wired): 134 million
DECENT WORK AND ECONOMIC GROWTH
Promote the digitalisation of small and medium-sized enterprises and generate wealth in the markets where we operate.
GOAL 8.1
Promote and contribute to the economic growth of the countries in which we operate.
Impact on GDP: 44.649 billion euros
Tax contribution: 8.16 billion euros
GOAL 8.3
Promote development-oriented policies that support productive activities, job creation, entrepreneurship, creativity and innovation.
% purchases from local suppliers: 77%
Investment in startups through third parties: 1.9 billion euros
Startups invested by Wayra: +770
GOAL 8.5
Achieve full and productive employment and decent work for all.
Total number of employees: 112,349
Indirect employment generated: 637,990
Employees with disabilities: 1,118
GOAL 8.6
Substantially reduce the proportion of youth not in employment, education or training.
People trained in employability: 996,875
GOAL 8.8
Protect labour rights and promote a safe and secure working environment for all workers.
Provider audits: 16,105
Providers with improvement plans: 560
QUALITY EDUCATION
Contribute to the empowerment of people to face the challenges and opportunities provided by digital transformation.
GOAL 4.1
Ensure that all children complete primary and secondary education.
No. of children benefiting from ProFuturo programmes: 16 million people
No. of countries where the ProFuturo programme operates: 40
GOAL 4.3
Ensure equal access to quality technical, vocational and higher education.
Students enrolled in Telefónica Educación Digital MOOCs: >6 million
GOAL 4.4
Increase the number of people with skills to access employment, decent jobs and entrepreneurship.
Beneficiaries of the digital skills training programme: 2.3 million
Hours of internal employee training: 3.5 million h
GOAL 4.C
Increase the supply of qualified teachers.
No. of teachers in the ProFuturo programme: >400,000
Training programmes for ScolarTIC teachers (persons signed up): 34,001
BUILDING A GREENER FUTURE
AFFORDABLE, RELIABLE AND SUSTAINABLE ENERGY
Using 100% renewable energy in all our operations.
GOAL 7.2
Increase the percentage of renewable energy.
Renewable electricity consumption (MWh): 4,918,373
Consumption is 100% renewable: Europe, Brazil and Peru
Emissions prevented by renewable energy consumption (tCO2e): 911,070
SUSTAINABLE CITIES AND COMMUNITIES
Become a leading provider of solutions that help our customers reduce their CO2 emissions.
GOAL 11.6
Reduce the negative environmental impact of cities.
Emissions avoided through Eco Smart services (million tCO2): 9.5
RESPONSIBLE CONSUMPTION AND PRODUCTION
Encourage the circular economy in the use of electronic devices through eco-design, re-use and recycling.
GOAL 12.2
Achieve sustainable management and efficient use of natural resources.
Electricity consumption + Self-generation (MWh): 6,548,152
Total energy consumption (MWh): 6,863,728
Waste generation (tonnes): 46,912
GOAL 12.5
Reduce waste generation through prevention, reduction, recycling and reuse.
GOAL 12.6
Adopt sustainable practices.
Responsible Design Process: Integrated in Telefónica Spain
CLIMATE ACTION
Implement the most efficient telecommunications network and reduce our CO2 emissions.
GOAL 13.2
Integrate climate change measures into policies, strategies and planning.
Direct emissions (Scope 1) (tCO2): 212,682
Indirect emissions (based on market method) (Scope 2) (tCO2): 530,684
Other indirect emissions (Scope 3) (tCO2): 1,909,321
ABOVE AND BEYOND OUR RESPONSIBILITY
DIVERSITY
Be a leading inclusive company to drive equality and equity.
GOAL 5.1
End all forms of discrimination.
Gross wage gap (men vs. women): 19.85%
GOAL 5.2
Eliminate all forms of violence and other forms of exploitation.
Cases of discrimination detected / measures taken: 3 /2
GOAL 5.5
Ensure women's full and effective participation and equal opportunities for leadership at all levels.
Women on the Board of Directors: 29.41%
Women in management positions: 27.4%
Women in the workforce: 38%
PEACE, JUSTICE AND STRONG INSTITUTIONS
Build digital trust, safeguarding the security of our customers' data and their privacy.
GOAL 16.5
Reduce corruption and bribery in all its forms.
Employees who have completed the Responsible Business course: 93%
GOAL 16.10
Ensure public access to information and protect fundamental freedoms.
Privacy of information: SASB TC-TL-2020a
Information security: SASB TC-TL-230a
GOAL 16.a
Strengthen international cooperation.
Corporate volunteering (people): 56,472
Beneficiaries of voluntary activities: 1,532,160
PARTNERSHIPS
Promote collaboration to innovate and increase access to technology and ICTs.
GOAL 17.6
Increase the number of fixed broadband Internet subscribers in all the regions in which we operate.
Number of fixed broadband subscribers: 20 million
GOAL 17.8
Promote collaboration to innovate and increase access to and use of technology and digitalisation.
Penetration of LTE service in the customer base: 85.2%
We work with the FAO
Together we promote digitalisation in agriculture and the food value chain, contributing to SDGs 2, 11, 12, 13 and 17.
Discover FAO's work in this area and consult its FAO e-learning Center.
We use data for the 2030 Agenda
Our company LUCA uses our connectivity data along with external data to contribute to the SDGs.
Further information