4YFN will be held from February 27 to March 2, parallel to the Mobile World Congress. It is one of the benchmark events for the international entrepreneurial ecosystem, bringing together technology startups, investors, corporations, and public institutions to generate synergies and joint business agreements.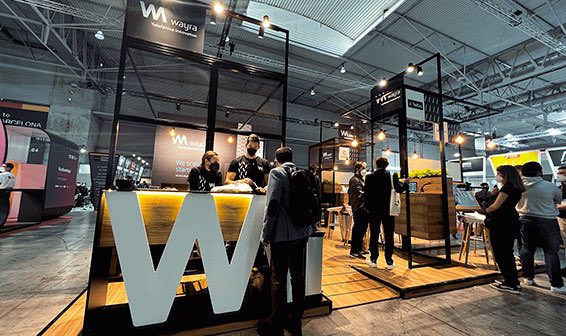 With Wayra's participation in 4YFN we want to find new business opportunities and attract talent to the company, as well as position ourselves as a benchmark of open innovation. We are looking for investment opportunities in technology startups, more mature and that fit with Telefónica's strategic projects.
Wayra's stand will have five booths where our startups will give demos of their products/services. More than 25 startups from the portfolio will participate.
Agenda at 4YFN 2023
Monday, 27 february 2023
Build the future of fashion and boost your startup with Desigual
15:45 – 16:15. Agora State
Speakers
Marta Antúnez (Directora Wayra Barcelona)
Eva Sirera (Líder de Innovación Tecnológica, Desigual)
James Theuerkauf (Cofundador y Director General, Syrup)
Boosting industries with AI
17:00 – 17:30. Pitching Stage
Description
Pitching session to provide an overview of different and disruptive business models in the area of AI.
Speakers
Javier Alcalá (Wayra Barcelona)
Arnau Navarro Rodríguez (Haddock)
Carlos Fenollosa Bielsa (Optimus Price)
Nicholas Zylberglajt (Unmanned Life)
Ricardo Marín Vallejo (Vozy)
Disruptive business models in Fintech and Insurtech
17:30 – 18:00. Pitching Stage
Description
Pitching session to give visibility to our startups related to Fintech e
Insurtech.
Speakers
Marta Navalón (Business Development & Partnerships, Wayra)
Fernando Cabello-Astolfi (Devengo)
Guillem Viladomat (Durcal)
Ruth Puente (BDEO)
Javier Mato (Aira)
Manuel Portillo (Investments Director, Telefónica Seguros)
Tuesday, 28 february 2023
Net for Dev
10:40 – 11:00. Sabadell Stage
Description
Telcos are redefining the role they play in the Internet ecosystem transforming its networks and telco services into software platforms for developers and innovators to extract the full potential of the state-of-the-art connectivity. Startups have a role to play too.
Speakers
Chema Alonso (CDO Director)
The role of telcos in Open Innovation: the success case of Alaian
15:00 – 15:30 Agora Stage
Description
Presentation of Alaian iniciative led by Telefonica with the collaboration of Bouygues, Cellnex, KPN, MTN, NOS, Wind Tre. A unique alliance with the mission of reinventing the industry by discovering the most disruptive startups.
Speakers
Irene Gómez (Open Innovation Director, Telefónica)
Jose Antonio Aranda (Director de Proyectos de Innovación Global, Cellnex Telecom)
Jacob Groote, (Vicepresidente Ejecutivo de 5G y Copresidente del Foro de Industrias Digitales de la GSMA)
Do's and Don'ts for Scaleup Leaders
15:30 – 16:00 Agora Stage
Speakers
Paloma Castellano (Director of Wayra Madrid)
Antonio Iglesias (CEO of Endeavor Spain)
Juan Moreno (Director of the Bankinter Innovation Foundation)
Rika Chrisanto (Idoven)
Rui Stoffel (BusUp)
Wednesday, 1 march 2023
Putting Open Innovation to work: the case of Solar360
10:00 – 10:30 Stand Telefónica MWC
Description
Solar 360 no es sólo una Joint Venture entre dos grandes corporaciones, es un caso de éxito de Innovación Abierta entre 2 corporaciones de diferentes sectores (Telefónica y Repsol) entrando en un nuevo mercado para ambas (Energía Solar), aprovechando las capacidades de las startups para impulsar el time-to-market. Panel entre el CEO de Solar 360 y el CEO de Ezzing Solar para compartir el potencial de la colaboración y los aprendizajes.
Speakers
Gonzalo Pérez (Head of Business Development, Wayra Madrid)
Alberto Cortés (CEO & Cofounder of Ezzing Solar)
Guillermo Barth (CEO Solar 360)
Is Metaverse Still Investable?
12:45 – 13:15 Frontier Tech Sky Room – Discovery Area, Hall 8.1
Speakers
Irene Gómez (Open Innovation Director, Telefónica)
Andrey Lunev, (Venture Partner XR, Startup Wise Guys)
Tilo Bonow (CEO & Founder, PIABO)
Beverly Rider (CEO, Tonomus Venture Studio)
Bringing web3 down to earth
13:15 – 13:40 Frontier Tech Sky Room – Discovery Area, Hall 8.1
Speakers
Carlos Ruisánchez , (Director de Scouting y Dealflow, Wayra)
Carlos Bort, (Cofundador & CEO, Cenit Finance)
Mar Pujadas (Directora de Estrategia y Ventas, Crossmint)
Marc Cercós, (Cofundador & CEO, Champion Games)
Mario Brassesco, (Director de Estrategia y Fusiones y Adquisiciones, Bit2Me)
Thursday, 1 march 2023
Telefonica and Unmanned Life: partnering for autonomous solutions in the Security industry
10:00 – 10:30 Stand Telefónica MWC
Speakers
Jorge Muñoz (Vicepresidente de Negocio y Marketing, Unmanned Life)
Marc Ferrer (Desarrollo de Negocio, Telefónica)
Miguel Borja Cano (Director de Innovación, Telefónica Ingeniería Seguridad)
Startups and partners that will be at the stand