The world has changed. The explosion of connectivity and artificial intelligence and our customers' evolving needs require innovative, intelligent and sustainable technology solutions generating a positive impact on the environment and helping to manage the digital transition.
COVID-19 confirmed an increasing demand for connectivity and the necessity to speed up the development of high quality ultrabroadband across the globe, positioning telecom infrastructure as a must for our society. At the same time, high capital intensity in the telco industry commands an increasingly demanding allocation of capital, driving the re-thinking of traditional infrastructure operating models.
Telefónica Infra objectives and value levers
Telefonica Infra is a fully owned unit of Telefónica Group and operates as a portfolio manager, owning and rotating stakes in infrastructure vehicles alongside financial investors.
In November 2019, a new Telefonica was designed to continue to be at the forefront of the new challenges posed by today's changing world. As part of the five strategic pillars announced, Telefonica Infra was created in order to exploit the value of the unique portfolio of infrastructure assets and capabilities across the Group, partnering with financial investors.
Telefónica Infra focuses on value creation through 3 key levers :
optimising existing infrastructure assets through dedicated management and increased focus
selectively monetising infrastructure assets
partnering with leading financial investors to co-invest in growth opportunities (through flexible partnership structures and business models)
In this way, Telefónica Infra meets its objectives which include improving Telefónica's business units' competitive position (acting as a facilitator to accelerate deployments in selected areas of operations and to improve returns through more efficient deployment models), crystallising the value of Telefónica's infrastructure assets and capabilities, and capturing future value upside through the stakes held in infrastructure vehicles.
Key developments since its creation
Since its creation, Telefónica Infra has focused on:
Creating strategic optionality for Telxius enabling value crystallisation as evidenced by the sale of Telxius Towers to ATC
Pursuing value creation opportunities in other asset categories, especially in Fibre and Data centers.
Telefónica Infra has reached agreements with top tier financial investors to create open-access wholesale operators to deploy and operate fibre in selected areas in Spain, Brazil, Germany, and UK and has also reached an agreement with Asterion to become a co-shareholder in Nabiax, its data center platform.
With these fibre vehicles fully operational, Telefónica Infra plays an active role in delivering more inclusive connectivity, by increasingly boosting penetration of high-quality, state-of-the-art FTTH accesses.
In the long term, Telefónica Infra has further optionality to explore other asset categories and service models. Telefónica Infra may selectively participate in vehicles to develop certain asset classes in selected countries, together with financial partners. Opportunities will be analysed on an ad-hoc basis, evaluating market opportunity together with Telefónica's assets and capabilities and investors' interest to co-invest and partner with us.
Our portfolio
Telefónica Infra's investment portfolio currently comprises investments in 3 asset categories:
Subsea cable (Telxius),
Data Centres (Nabiax) and
Fibre (Bluevía, FiBrasil, Unsere Grüne Glasfaser and nexfibre).

Bluevía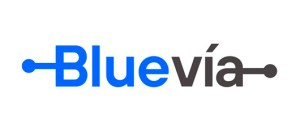 Bluevía is a network operator that offers wholesale FTTH access services and other connectivity services through fibre optic technology in selected areas in Spain.
Telefónica Group holds a 55% majority controlling stake in Bluevía (30% through Telefónica España and 25% through Telefónica Infra), and the consortium formed between Vauban Infrastructure Partners and Crédit Agricole Assurances hold the remaining 45%. This consortium acquired a 45% stake for a total amount of EUR 1,021 million in cash paid at Closing of the transaction, which renders a EUR 2.5 bn valuation for 100% of Bluevía representing an implied multiple of 27.1x Pro-forma 2022 OIBDA.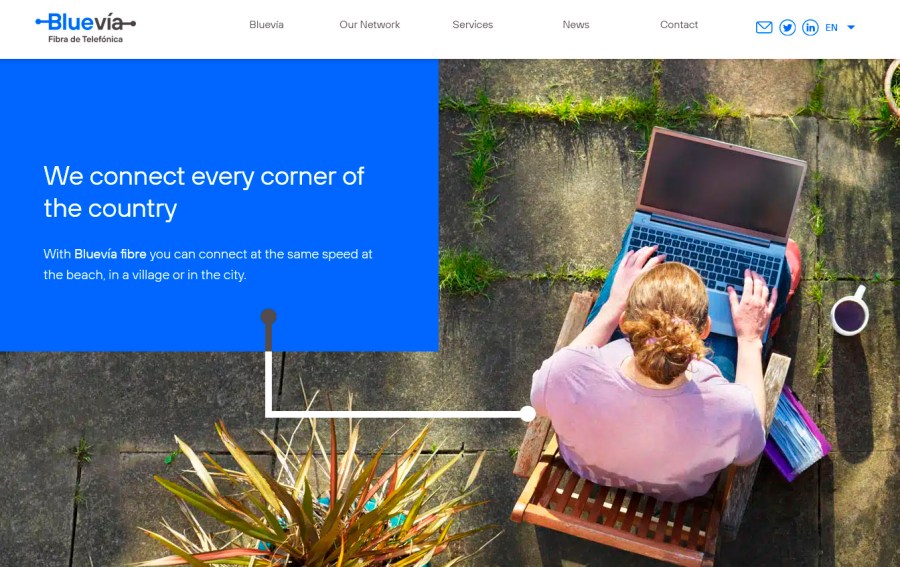 The JV agreement was signed in July 2022, closed in December 2022 and the company is fully operational. Bluevía started its operations with a wholesale fibre optic network of more than 4 million premises passed acquired from Telefónica España, and will expand its network to 5 million by the end of 2024.
Bluevía contributes to the development of smaller towns (rural and semi-rural areas of Spain, with less than 20,000 inhabitants) by deploying fibre to reduce the digital divide, through a technology that decreases the environment impact and CO2 footprint.
It leverages Telefónica Group's experience in deploying and operating high-speed FTTH networks and operates as an open wholesale platform, providing services to multiple Internet service providers throughout its area of influence, including Telefónica España.
FiBrasil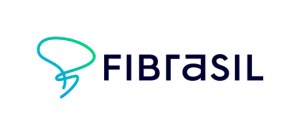 FiBrasil is a 50/50 JV where Telefónica Group owns 50% (25% through Telefónica Infra, 25% through Telefónica Brasil) and Caisse de Dépôt et Placement du Québec "CDPQ" owns the remaining 50%.
The agreement was signed in March 2021, Closing in July 2021 and one month later, FiBrasil announced and closed the acquisition of Fiberty1 (formerly Phoenix Fiber) increasing its initial footprint.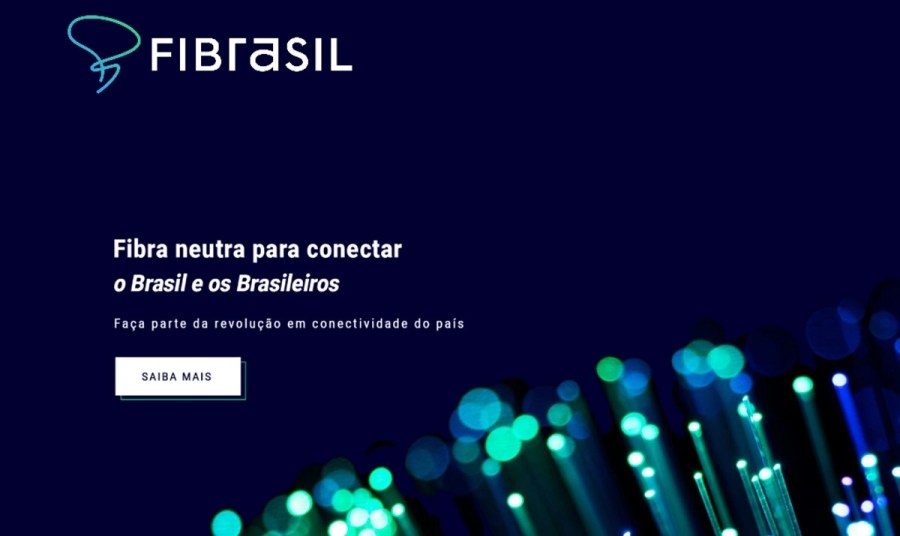 FiBrasil deploys and operates FTTH in selected mid-sized cities in Brazil and is formed by brownfield premises contributed by Vivo and new and expanding projects (greenfield). FiBrasil started with a portfolio of 1.8 million premises passed and by the end of 2022 has reached 3.3 million in more than 150 cities in the country, leveraging Telefónica Group's experience to continue growing in the deployment of high speed FTTH networks.
FiBrasil operates as a neutral open access wholesale platform and its network can provide connectivity services to multiple internet service providers. It started operations with Vivo as its main anchor-client and has since reached agreements with other relevant clients such as Sky Brasil and Vero, enhancing its commercial position.
CDPQ agreed to invest a total of up to R$1.8 billion in this joint venture, comprising both primary and secondary payments, and valuing the brownfield premises contributed by Vivo at an implied multiple of 16.5x 2020 PF OIBDA. CDPQ's projected capital contributions and the debentures issued by FiBrasil during its first 2 years of operations provide a fully funded business plan to accomplish the company's deployment targets.
Unsere Grüne Glasfaser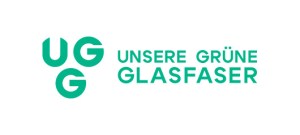 UGG (Unsere Grüne Glasfaser) is 50/50 JV where Telefónica Group owns 50% (40% through Telefónica Infra, 10% through Telefónica Germany) and the remaining 50% is held by Allianz Capital Partners (on behalf of Allianz insurance companies and the Allianz European Infrastructure Fund).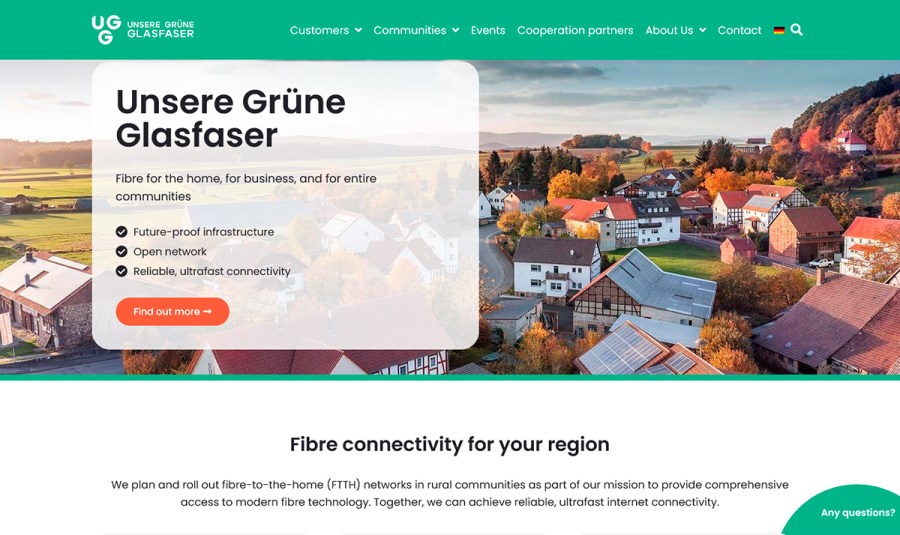 UGG is an open-access wholesale neutral operator focused on deploying fibre in rural and semi-rural areas in Germany to tap the potential of Europe's largest broadband market. It is complementary to other fibre vehicles in Germany and committed to accelerating Germany's social, economic and digital development by providing ultrafast broadband connectivity to underserved regions through a sustainable energy-efficient network.
UGG announced a target to reach > 2mill premises passed over several years, creating a fibre network of over 50,000 kms. Allianz, one of the world´s leading insurers and investors, and Telefónica, as one of the largest telecommunications service providers globally, provide strong pillars supporting the company's ambitious plans.
The JV was signed in October 2020 and started operations in early 2021. Construction started in February 2021 and the first retail customer was connected by June 2021. The company is now present in 8 Länder (federal states), is deploying in over 100 municipalities and has reached MOUs with municipalities representing +720k premises (as of Dec-2022).
UGG operates as a neutral open access wholesale platform and its network can provide connectivity services to multiple internet service providers. It started operations with O2 as its main client and has since reached agreements with 4 additional regional ISPs, enhancing its commercial position.
The JV intends to invest up to EUR 5 billion through different sources of funding: shareholders' equity, a long term subordinated loan plus non-recourse external financing. Investments are spread out during the deployment period, Telefónica will invest up to EUR 0.5bn equity and Allianz will invest up to EUR 1.0bn through different instruments. UGG has raised initial debt facilities for a total of €1.65 billion (7-year, non-recourse senior debt) sufficient to meet UGG's liquidity needs over the first years of operations, with built-in flexibility for further facilities to be raised in future alongside this financing in order to complete the roll-out.
Nexfibre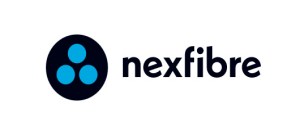 Nexfibre is a 50/50 JV where Telefónica Infra and Liberty jointly own 50% (through a holding company owned 50/50) and the remaining 50% is held by InfraVia Capital Partners.
The JV was signed in July 2022 and started operations in January 2023.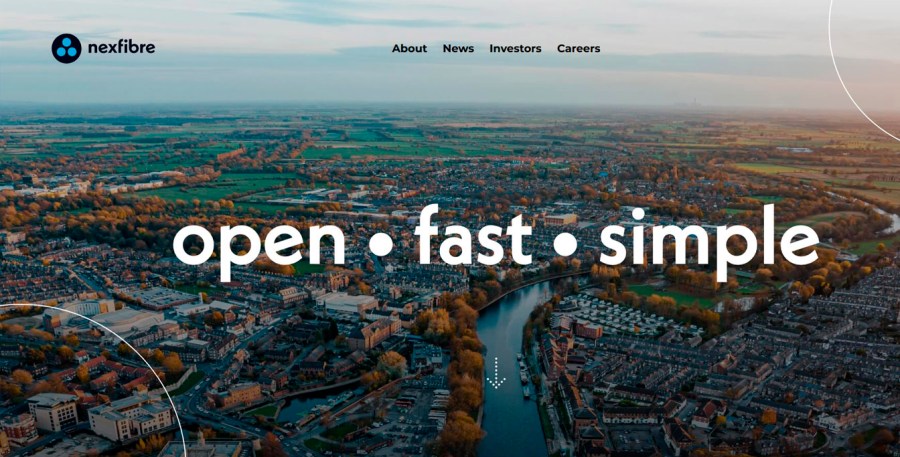 The partnership will initially roll out fibre to 5 million homes not currently served by Virgin Media O2's network, with the opportunity to expand to an additional c.2 million homes. This investment of approximately £4.5 billion will provide a major boost to the UK's digital economy and make a significant contribution to the Government's gigabit broadband ambitions.
The fibre network offers FTTH wholesale access to telecommunications service providers, with Virgin Media O2 acting as the initial anchor client.
The initial rollout of 5 million homes envisages an investment of approximately £4.5 billion. The three partners have agreed to fund their pro rata share of equity funding for the build, up to £1.4 billion in aggregate, phased over 5 years. In addition, the JV has obtained £3.3billion of fully underwritten debt financing from a consortium of financing banks. As part of the transaction, InfraVia will make certain payments to Liberty Global and Telefónica, a portion of which will be linked to the progression of the network build-out.
Nabiax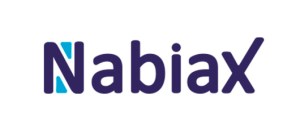 Nabiax is an independent company which aims to lead the Colocation & Hosting services in top quality Data Centers across Spain and Latin America, present also in the US, in order to drive the digital transformation of its clients.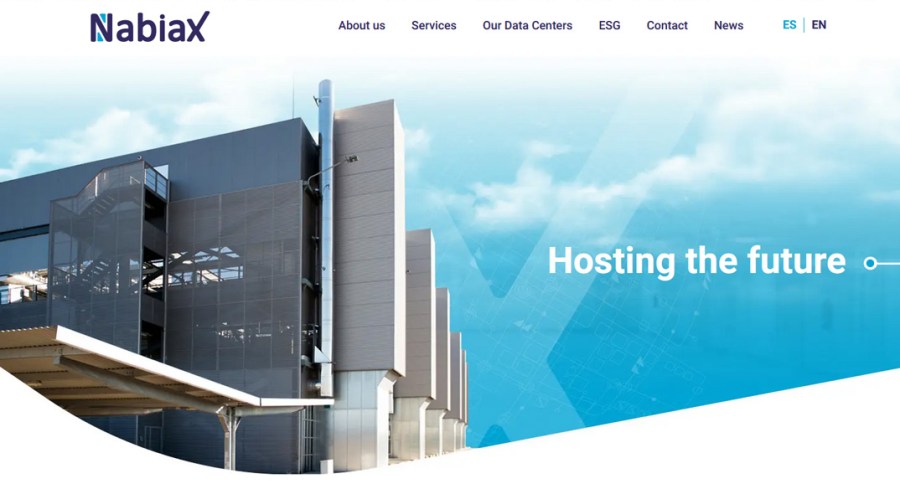 The company was born after Asterion Industrial Partners acquired a portfolio of Data Centers from Telefónica for EUR 550 million. Telefónica subsequently contributed 4 additional Data Centers in exchange for a 20% stake in the combined entity.
The shareholding structure is therefore 80% Asterion, 20% Telefónica Infra.
Nabiax is present in 7 countries: Spain, Argentina, Brazil, Chile, United States, Mexico, and Peru. Nabiax's platform of 14 Data Centers offers an IT power of 49 MW, with the capacity to expand up to 180 MW. These infrastructures are hyperconnected by Telefónica's fiber network and most of them are Tier III & IV certified by the Uptime Institute.
During 2022, Nabiax has strengthened its sustainability commitments, launching its 2022-2024 ESG strategic plan and fulfilling the three ESG indicators, two environmental (carbon emissions and water treatment) and one social (gender equality) associated with the €320m "Green Financing" received in 2021.
Telxius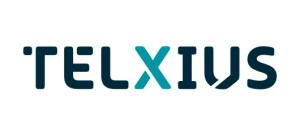 Telxius is one of the leading global digital telecommunications infrastructure operators, operating a scalable growth platform with premium infrastructure and high top-line and cash-flow visibility.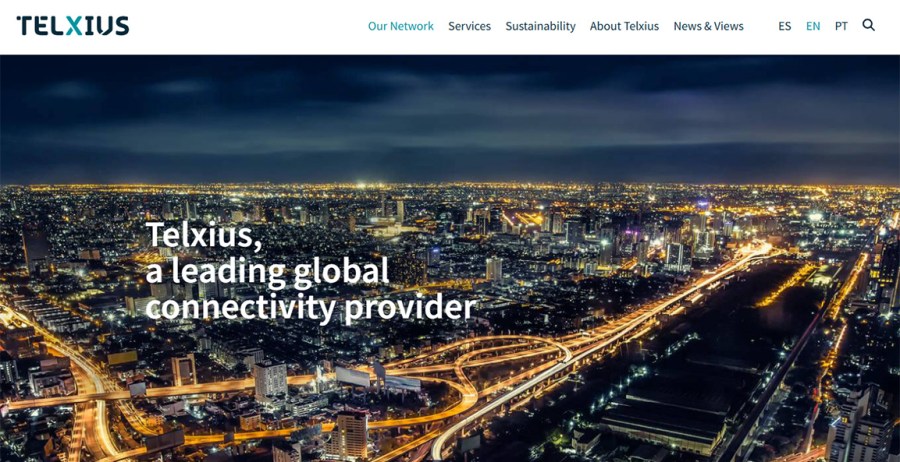 Telxius continues to expand its unrivalled global ecosystem of digital infrastructure based on more than 82,000 km of high-capacity fiber optic submarine cables, including terrestrial backhauls, close to 100 PoPs in 18 countries, 25 landing stations and 2 communications hubs connecting to the main data centers in the world. Telxius provides a wide range of Capacity, Colocation and Security services, as well as direct internet connectivity through its Tier-1 IP network.
In January 2023, Telefónica and Pontegadea consolidated their alliance in Telxius strengthening their commitment to submarine cables, an asset that has proven critical during the pandemic and whose contribution will be equally fundamental in the development of the new digital era. The two partners have increased their stakes in Telxius by jointly acquiring the 40% stake previously held by KKR.
After this transaction, Telefónica now holds 70% of Telxius and Pontegadea 30%.