We want to share with you the interesting interview that "CSR leaders" made to Alberto Andreu, Global Public Affairs in Telefónica, for its section "In The Lead: CSR Success Stories" (http://bit.ly/LQc8KK).
"In The Lead: CSR Success Stories" shares breakthrough CSR success stories, tips and solutions with the global CSR community. Their objective is to bring together the best-of-the-best and inspire real CSR solutions. They interview the most dynamic CSR experts and showcase their stories and insights.
Have you ever wanted to know how one of the largest companies in the world, present in 25 countries with a workforce of some 285,000 professionals and more than 309 million customers thinks about CSR? Well, look no further. Telefónica's Alberto Andreu is in the lead!
CSRLeaders has been tracking Alberto Andreu @aandreup for some time. We managed to get on his calendar. Not easy for a man that travels across continents and, as head of CSR, reports into the Global Telefónica Board.
Telefónica's "Captain" of CSR and Professor of Organizational Behavior at IE Business School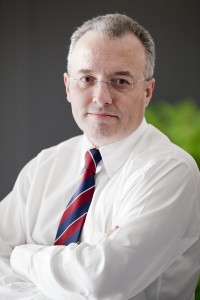 Alberto, thanks for your time. CSR continues to be a "strategic" imperative for many organizations but from our outlook there appears a lack of processes, funding, and even understanding of what it is and how it should be performed. So instead of listening to journalists, we are approaching people like you who are doing CSR and are living it. What's your take on the state of CSR?
I completely agree with you. I have had the opportunity to talk with CSR professionals in the UK, Germany, Czech Republic, Brazil, Argentina, Colombia, among others. The question that we all have to ask ourselves is, "Are we talking about the same thing? Are we on the same page?" The answer, more often than not, is unfortunately no, we are not talking about the same thing. Significantly, this does not happen in other professions / business functions like marketing, sales, finance, operations and HR. When we talk about CSR and sustainability we have to define up front what we are talking about. Certainly, CSR Leaders is trying to shine some light into this tunnel and has a very interesting blog.
So with everyone defining CSR / Sustainability differently what does CSR mean to you and Telefónica'?
Telefonica started to work on CSR/Sustainability about fifteen years ago in two main areas:
1) The first is the Telefonica Foundation. The Telefónica Foundation was created in March 1998 to attack enormous problems and create huge social impact, mainly philanthropic projects and charity programs. Today it's main focus is to eradicate problems like child labor and projects around education. The Telefonica Foundation is focused on tackling the social problems through charitable donations.
2) The second is the Corporate Sustainability initiative, the one I lead since it was created eleven years ago, that we define as a business approach (not a charitable approach) focused on creating long-term shareholder value by embracing new opportunities and managing risks deriving from economic, environmental and social developments.
Our main objective is to make a balance, respecting the responsibilities of the Telefónica Foundation which is focused mainly around social projects and building the CSR idea of managing corporate sustainability riskto business benefit and social impact.
This appears a far more encompassing and strategic view of CSR than purely philanthropy or volunteering. There is a clear appreciation that CSR is an opportunity for and risk to the business. Tell us about your CSR drivers, goals and strategy?
We have many drivers for CSR at Telefónica. Some are driven by minimums like regulation, while others are to drive differentiation. Our defensive strategy is to establish building blocks and global standards while our CSR differentiators (that drive market innovation) are implemented at the regional or local levels. If I may take the analogy of a football team (soccer), we have a number of "players" that have an important part to play in our CSR strategy. Indeed we play a classic "4,3,3".
Playing in defense, our commitments are designed to minimize our reputational risk and reduce costs – they are global in implementation. Many of these CSR projects are non-negotiable such as DJSI, CDP and FTSE requirements. Countries must play at a minimum "Performer" level across our operating businesses. These minimum requirements are led by the Global Sustainability Team (Business Principles Office) to reduce risk. Countries can go further in driving higher-levels of achievement but the CSR's mission is to ensure that there is a minimum level achieved across countries
Our midfield priorities balance our minimums with the ability for operating business to go beyond those minimums for further business benefits.
Our attacking CSR goals are to find new business opportunities in order to link "Sustainability" with the P&L.
At the base of our CSR initiative is our "goalkeeper" our processes for integrity and social reporting that tracks and measures our CSR performance.
Telefonica's CSR Strategy – Balancing Defense and Attack
The football analogy is a great way of presenting your CSR initiative especially as most people in your organization I bet love the sport. Lets go into a little depth into these initiatives.
Ok, lets continue with the football analogy then…. Let me go through each of the initiatives and its role:
Telefonica's Champion's League CSR team
Number
Role
Alberto's Comments
Goalkeeper
1
Integrity and Social Reporting
These sets of responsibilities link to the transparency of the company. It links how much revenues we are earning with how are we earning these revenues. We produce 16 sustainability reports and 60% of people are trained on Business Principles, our Ethic Code. The group shares the same Code since 5 years ago, and the Business Principles Office is responsible to guarantee its implementation in 25 countries
Defenders
2
Supply Chain
This is one of the hot topics in the Telco sector and Telefonica has conducted over 1,000 audits of its Ethical Supply Chain Policy.
3
Data Protection and Digital Confidence
Here we ensure that our Privacy Policyis leading edge and we also aim to help kids and children surf online.
4
Working Condition and Diversity
Our goals include having 50% of employees as women and increasing the number of people who work at our company that have a disability (currently 0.6% of employees).
5
Child Protection and Responsible Advertising –
How kids are protected on the internet (gambling etc) and responsible advertising. We have a number of initiatives here including ICT Principles, CEO Coalition and the Interactive Generation Forum.
Midfielders
6
Environmental Management and Electromagnetic Emissions.
Related to mobile phones 65% ofoperating business comply with the SGA model; Energy Efficiency project: CO2 energy efficiency: the objective is to reduce 30% our global emissions by 2015
7
Global CSR/Local CR Teams
We are here to reduce the company's risk profile across operations that are impacted by CSR. The CSR team is in the middle. We play the role of Xavi Alonso at Real Madrid Football Club or Steven Gerrard at Liverpool Football Club. To identify and assess the risks associated with the Principles in the context of the Company's risk management model. We identify and promote development of minimum common courses of action across the organisation, demonstrating our commitment to these areas and facilitate the day-to-day application of the code. And we do it hand to hand with the local CR & Sustainability teams
8
Health and Safety. Project "Safety, Health &Wellness".
Here we work on health and safety issues particularly in developing countries.
Forwards
9
Green ICT (Smart Cities/Smart Customers).
This is the future of the sector (more efficient use of energy) plus the future of cities is completely connected (e-government, social services are all connected into a smart city). We have global partnerships (ITU, GSMA, UNEP), and we do investor and analyst relations.
10
Social Programmes (Kids, Young Entrepreneurs).
Social programmes get a lot of pictures for the company as they have massive social impact. We are mainly focused on Education & Eradication of Child Labour (Latam) thanks to Telefónica's Foundation; Young People (Europe),Thanks our Think Big Programe; Disability (both); and promoting Entrepreneurship (Wayra).
11
Accessibility and Digital Inclusion ITC.
Digital inclusion (ICT for education, and disabled people) that includes E-health (elderly & disable people) e-education; e-finance and Public – Private partnership initiatives in LATAM.Digital inclusion is the perfect connection between business and its social impact
This indeed is a well thought out approach to humanizing and communicating your CSR strategy. But it is broad. How do manage all these initiatives at Telefónica?
We have two main levers, a formal structure and informal policy. Within the formal structure, my function reports to the Technical Secretariat at the Chairman's Office Eight years ago the company created a mission to focus on Corporate Reputation & CSR. To develop all the CR global policies we have the Business Principles Office and it is responsible for implementing the global business policy and standards across the world. It comprises of people from internal audit, HR, Legal and CSR.
The informal structure includes working very closely to develop internal partnerships as we act as "internal consultants". We help functional areas to write the policy and disseminate Telefónica's Business Principles, by preparing documents, training materials and presentations. We review processes and controls to ensure that the Principles are adequate and appropriate, at all times, for legal requirements and established best practices. We answer any questions, complaints or allegations that may be raised by employees, suppliers or partners as regards with the Business Principles, via the Confidential Hotline, run by the Internal Audit department.
We are starting to use SAP as a tool to manage the CSR and sustainability data from energy consumption, carbon emission and we want to take SAP to all of the CSR projects including diversity.
Well, thanks for the overview Alberto. It appears that Telefónica would play in the Champions League in terms of its CSR accomplishments, management team, direction and aspirations. What accomplishments have you reached so far and who are your CSR competitors?
Success to date includes high levels of achievement in the Dow Jones Sustainability Index, being identified as a Leader (2009-2010) and holding second position in the Telecommunication ssector (2011) for our CSR work. We have been told that we have accomplished best practice in the follow areas:
Corporate Risk Management Model
Global Environmental Management System
Global Policy Responsibility Suppliers
Impact of ICT in Communities
Our competitors that have great CSR teams include ATT, Verizon, Vodafone and interestingly Korean Telecom is well regarded in terms of its CSR credentials – these are our CSR peers in the Telecom industry.
Thanks Alberto, here is hoping your team – Real Madrid – continue their good form.